Gray to Residents: Boycott Md. Rep.'s District for Blocking D.C. Marijuana Law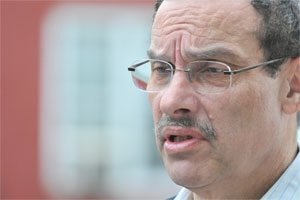 D.C. Mayor Vincent Gray and leaders of the city's democracy movement are urging residents to boycott vacation destinations in the district of Rep. Andy Harris — including Ocean City — in retaliation to the Maryland Republican's push to stop marijuana decriminalization in the District.
"I don't think we should support someone who doesn't support us, who doesn't support democracy, period," Gray said Wednesday at his biweekly press conference.
The House Appropriations Committee voted Wednesday to stop a D.C. law decriminalizing possession of small amounts of marijuana as part of an amendment of a fiscal 2015 spending bill. Harris, who sponsored the amendment, has been an outspoken critic of the city law, which would have went into effect later this month.
Kimberly Perry, executive director of DC Vote, an advocacy group in the District, echoed Gray's sentiments.
"The people of the District have nothing against the people of Ocean City or any other place in Mr. Harris' district," Perry said. "We hope they understand that the dictatorial action of their representative — along with our lack of a voting representative in Congress — leaves supporters of democracy with few options to respond to his unwarranted attack on D.C.'s local autonomy. If you care about D.C. equality, we ask you not to patronize vacation destinations in Rep. Harris' district."