Funeral Arrangements Announced for Wayne Curry
7/4/2014, noon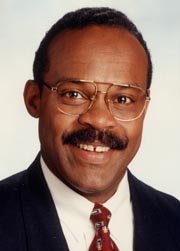 The family of Wayne K. Curry, Prince George's County first African-American executive, announced Thursday the funeral arrangements for the late politician.
A public viewing will be held at the County Administrative Building in Upper Marlboro on Wednesday, July 9 from 9 a.m. to 7 p.m.
A second viewing will take place Thursday, July 10 from 9:30 a.m. to 11 a.m. at First Baptist Church of Glenarden in Upper Marlboro, with funeral service to follow. A private internment will be held afterwards.
Curry, affectionately known as "Mr. Prince George's County," died July 2 after a battle with lung cancer.
He left a legacy in the county spanning more than four decades and including the groundwork for the National Harbor, the largest commercial construction project in Maryland's history.
Curry made the "deal of the century" when he negotiated the Washington Redskins' move from the District of Columbia to Prince George's County. As part of the deal, he was able to get then-owner Jack Kent Cooke to include a sports and learning complex for county residents, which was named after him.
Curry, who was instrumental in the Largo Metro Station project, also oversaw the end of 25 years of mandatory busing in the county.