NAACP, CBC Lament High Rate of Black Unemployment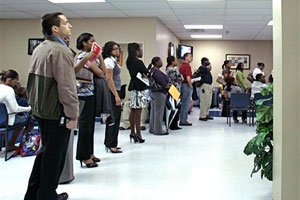 While the nation appears to be in an economic recovery, leaders of the NAACP and the Congressional Black Caucus bemoan the high number of unemployed blacks.
The Department of Labor's Bureau of Labor Statistics report the national unemployment rate decreased to 6.1 percent in June; however, the unemployment rate for blacks was 10.9 percent, more than double that of Asians and whites.
Dedrick Asante-Muhammad Sr., director of the NAACP's economic department, said increasing job opportunities for public sector jobs is the key to higher wages for more Americans, particularly blacks.
"The 288,000 jobs added this month indicates that the economy overall is beginning to recover," he said. "However, black unemployment continues to improve at a much slower pace as public-sector employment lags, in large part due to austerity budgeting. Public workers are a key element of the middle-class economy."
Rep. Marcia Fudge, Ohio Democrat and caucus chairman, said her organization will continue to advocate for strong job training programs and increased job opportunities.
"The CBC remains committed to ensuring the decreasing employment rate reflects a diversity of workers in jobs with incomes that allow them to provide for their families," Fudge said. "The benefits of a strengthening economy should be felt by all Americans. No one should be left behind."