Africa Underground Spotlights Kenya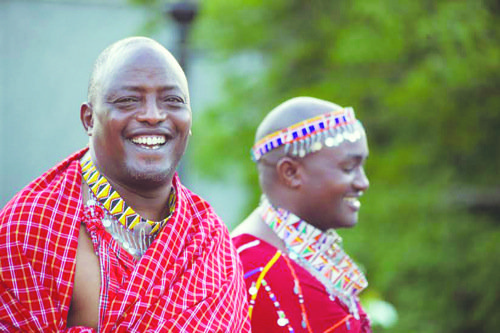 The sweet sounds of Mombasa music and other uniquely Kenyan songs played by Jabali Afrika in the Smithsonian's Enid A. Haupt Garden captured listeners' attention.
Like a moth to the flame, people caught up in the rhythm found their way to an open space at the back of the garden and stood absorbing the music and its varied elements, especially the guitars and drums. Within half an hour of the first note, scores of visitors had made the area in front of the band a dance floor of their own and grooved on in their own little worlds.
And by the end of the night, a larger and appreciative crowd partied well into the night, including an elderly woman who danced spryly on crutches.
This season's Africa Underground featured the East African nation of Kenya and all evening and night of June 28, Kenya's music, art, culture and food dominated the landscape of the Smithsonian's Museum of African Art in Southwest. The museum also celebrates its 50th year, which added currency to the festivities, said Dr. Johnnetta Cole.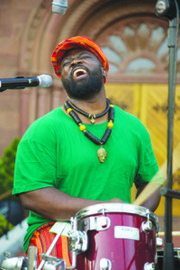 "This is our birthday, an anniversary which has to be celebrated, especially the 50th," said Cole, the museum's executive director for almost five years. "It calls on us to look back to count the years and then to look forward."
Professor Peter Anyang' Nyong'o, a senior Kenyan senator and father of Oscar-winning actress Lupita Nyong'o, traveled to the event as a special guest of Cole and the museum.
He danced close to the bandstand, talking to guests and appearing to thoroughly enjoy the music. He said events like Africa Underground allow those unfamiliar with a country or region to learn and experience it.
"I came here on Monday. I'm an old hand – I've been to D.C. many times. It's very good. I really like it," he said of the evening's activities. "I hope people enjoy it and get to know Kenya. Sometimes people, those who live elsewhere and even those in Africa, don't know a lot about Kenya. And here in the U.S., people don't know a lot about Kenya either."
Nyong'o said he's been a member of the Kenyan Parliament since 1993 and a senator since last May. A college professor, he serves as the Secretary General of the Orange Democratic Movement and represents the Kisumu Rural Constituency.
Asked about his 31-year-old daughter and her stunning Oscar win earlier this year in the movie "12 Years a Slave," he chuckled.
"I've lost my identity because my daughter is better than I am," he quipped. "The hope was there that my child would win. Her win was both a pleasant surprise and welcome news."
He and his wife attended the Oscars ceremony in Hollywood where their daughter won the Best Supporting Actress award.
In an earlier interview, he said his daughter called him to tell him that she had been nominated.
"She was really touched that she had done well enough to be nominated. It was a great achievement in its own right," he said at the time.