D.C. Political Roundup: 
Politics on Display at Palisades Parade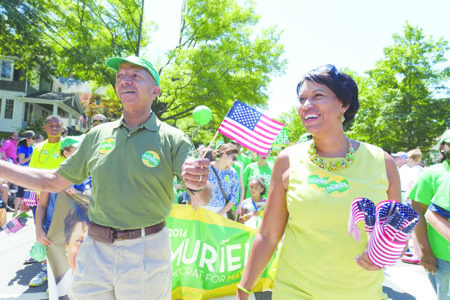 Despite the fanfare, marching bands and parade onlookers, the District's politicians grabbed the undivided attention of potential voters –both new and old – during the 48th Annual Palisades Citizens Association Fourth of July Parade in Northwest.
While thousands enjoyed the festivities – replete with an array of local organizations that danced to ethnic music and politely cheered contingents of firefighters, freemasons, Girls Scouts and members of various community organizations – the heavy hitters who included D.C. Del. Eleanor Holmes Norton (D) and D.C. Mayor Vincent Gray (D) received rousing applause as they strolled along MacArthur Boulevard.
When Ward 4 D.C. Council member Muriel Bowser, the Democratic candidate for mayor and her entourage of nearly 60 supporters, all sporting green and white T-shirts captured the crowd's attention, they got a big surprise: former D.C. Mayor Anthony Williams.

People cheered loudly as Williams walked with the Bowser contingent waving two American flags and wearing a green Polo shirt with a "Muriel Bowser" sticker attached to the designer label. Later, at Palisades Park in Northwest, Williams told the crowd why he's supporting Bowser for mayor.
"Muriel is the right person to continue the momentum of good government," Williams, 62, said.
Bowser's opponents, D.C. Council member David Catania (I-At Large) and Carol Schwartz (I), also participated in the parade. Catania greeted onlookers enthusiastically while Schwartz waved as she made the trek up MacArthur Boulevard, a tony corridor in the District.
Former Greater Washington Urban League President Maudine Cooper accompanied Schwartz's in her parade car.

D.C. Council Chairman Phil Mendelson (D) and Council members Anita Bonds (D-At Large), Jack Evans (D-Ward 2) and Mary Cheh (D-Ward 3), also marched in the parade. Evans, sported a "Muriel Bowser" sticker, and delighted the crowd by tossing candy to excited residents and those walking through the neighborhood.
Most of the candidates who are running for the at-large position on the council as independents showed up with their supporters. Elissa Silverman, a former journalist and budget analyst, greeted residents and asked for signatures so that she can get on the November general election ballot.
Silverman, who placed second in the April 2013 special election for the D.C. Council at-large seat, garnered a large number of supporters, such as D.C. Council candidate A.J. Cooper, the nephew of arts patron Peggy Cooper Cafritz.
While Cooper supports Silverman, he has plans of his own.
"I am running for the Ward 4 seat that will be vacated by Muriel Bowser," he said with a smile.
Simpson Runs Write-in Campaign
Derrell Simpson didn't qualify to get on the ballot for the Tuesday, July 15 special election to replace Trayon White as the Ward 8 representative on the D.C. State Board of Education, but that hasn't stopped him. Simpson has positioned himself as a write-in candidate and he's confident that he can win.
"I am running for the board of education because four of 10 high school students in Ward 8 are not reading at the eighth-grade level and that is unacceptable," said Simpson, 25. "Only 12 percent of Anacostia High School students are reading on or above grade level while 23 percent of students at Ballou are reading on grade level or above. I know that Ward 8 residents want an improved education system."