EDITORIAL: Wayne Curry, RIP
7/9/2014, 3 p.m.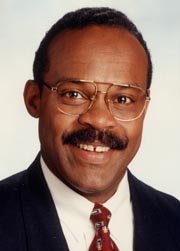 During his years in public life, it didn't take long after meeting Wayne Curry to know that he lived and breathed Prince George's County. Although born in New York, Curry proved to be the county's champion, investing considerable time, effort and resources into making the county a place of which all its residents could be proud.
Curry, 63, died last week after a battle with lung cancer.
A pioneer who served as the first black county executive, Curry went about remaking the county and changing a largely agrarian region and bedroom community for the nation's capital into a bustling, robust county. He inherited a $100 million deficit and managed to whittle it down by the time he left office.
Curry had visions of a vibrant, varied, cosmopolitan county where all residents could live in communities of their choosing in affordable or upscale homes, where well-paying jobs existed and residents didn't have to go elsewhere to enjoy amenities that others around the region took for granted. As a child who helped integrate Bladensburg High School, and who lived in a county where segregation forced blacks to endure a range of indignities and limited their access to equal education, jobs and homes, he was particularly sensitive to improving the fortunes of the county's black population.
During his tenure (1994-2004), the county tipped from majority white to majority black and soon boasted the most wealthy and well educated blacks in the country. Curry spearheaded the rise of upscale development in the county, planted the seeds for what would become National Harbor, and lured Washington's professional football team from RFK Stadium in the District to what is now FedEx Field in Landover. Curry also negotiated with NBA superstar turned businessman Earvin "Magic" Johnson to invest in the county.
Shortly after finding out that he'd developed lung cancer, Curry began a public campaign to alert blacks about the prevalence of the disease, its effects on the black community and prevention.
Those who knew Curry aren't surprised. That's what he embodied: A caring man of the people.