Gray Welcomes Microsoft to D.C. for Conference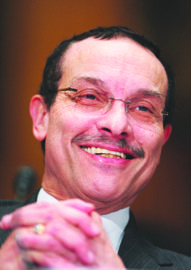 D.C. Mayor Vincent Gray, who has made priority to bring high-tech firms to the city, lauded Microsoft for holding its Worldwide Partner Conference in the District this month.

More than 16,000 Microsoft partners and employees from around the world will be in the city July 13-17 to conduct business, network, show their wares, programs and talents.
The conference, last held in D.C. in 2010, is expected to generate $29 million for the local economy.
"I am pleased to welcome Microsoft partners from around the world to our great city," Gray said. "This global gathering is another great example of how hard the District government and its partners have worked to make D.C. a premier destination."
Microsoft, headquartered in Redmond, Washington, is listed as number 34 on the Fortune 500 listing of the largest companies in the United States. The company is one of the firms set to anchor the St. Elizabeths East tech complex in Southeast.