James Brown Biopic Opens July 31
'Get on Up' Chronicles Life of the Soul Legend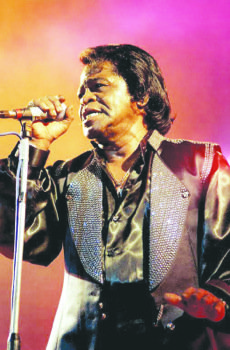 Producers of a new film based on the incredible life story of James Brown promise to give audiences a fearless look inside the music, moves and moods of the legendary "Godfather of Soul."
The film, "Get on Up," stars Chadwick Boseman, Viola Davis, Octavia Spencer, Jill Scott and Dan Aykroyd. A special screening will be held on Thursday, July 31 beginning at 8 p.m. at the Regal Potomac Yard Stadium 16 in Alexandria, Virginia. The movie opens nationwide on Friday, Aug. 1
"The collective genius that is James Brown is, that he was one of the Famous Flames, The Godfather of Soul, The Minister of the New Super Heavy Funk," said the film's director Tate Taylor, who directed the 2011 Academy Award nominated, "The Help."
Taylor said the 96-minute film from Imagine Entertainment helps to reaffirm why most considered Brown, "The Hardest Working Man in Show Business." He said the singer always committed to hitting the right notes on and off stage and more than a few stars followed Brown's lead.
"Look at those he influenced," said the late singer's daughter, Deanna Brown Thomas. "The Maceo Parkers, Fred Wesleys, George Clintons. I believe it's important to remember the hard work dad put in and the fact that he's so revered for his work is so remarkable," said Brown Thomas, 45.
When Michael Jackson presented Brown with a lifetime achievement honor at the 2003 BET Awards, the King of Pop acknowledged that much of his creativity stemmed from watching the Godfather of Soul.
"I got it from you, you, you," said Jackson, who died after suffering cardiac arrest in 2009.
Brown died in 2006 at the age of 73, but left an indelible impression on the music industry. From the 1950s onward, he mesmerized audiences with such hits as, "I Got You (I Feel Good)," "Get Up, Get On Up," "Papa's Got a Brand New Bag," "It's a Man's Man's Man's World," and, "Say it Loud (I'm Black and I'm Proud)."
Boseman, who won acclaim in 2013 for his portrayal of the late baseball Hall of Fame star, Jackie Robinson, said portraying the singer proved to be a dream comes true.
Prior to starring in "42," Boseman had appeared mostly on television, with guest roles on "Fringe," "Justified" and "Cold Case" in addition to a recurring stint on "Persons Unknown."
With producers Mick Jagger and Brian Grazer, Taylor and Boseman met with Brown Thomas and other members of the late entertainer's family.
Taylor said receiving the blessing of the Browns meant a great deal. In fact, he called it critical.
"We have to protect James and make it real," he said.
Brown Thomas agreed. "It's important for us to keep dad's legacy and to share the richness of his life," she said.
"My father's story is an American story, not just an African-American one," Brown Thomas said. "He had a dream like any other young child and he went through some tough times because he was poor. But, it is important for us to keep his legacy and share the richness of his life."