Nationals Summer Camp Builds Skills for Life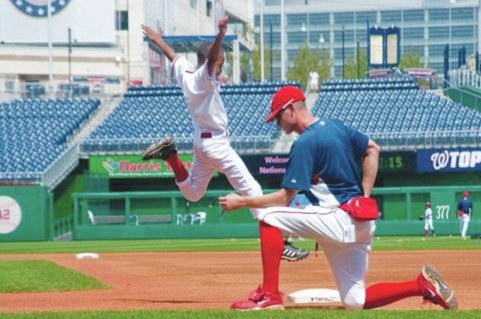 The Washington Nationals Youth Baseball Academy sits on Ely Place, a jewel overlooking the road that represents the field of dreams for underserved children living in Wards 7 and 8.
On the first day of a five-week summer camp, some of the 108 student-athletes in grades 3-5 sat in one classroom getting the lowdown from an instructor on how they are expected to comport themselves in class and throughout the camp. Others trooped in single-file from activities outside, laughing, jostling, moving around excitedly.
Either side of the hallway, on the walls, hung life-sized black and white pictures of icons of the diamond: Jackie Robinson, No. 42, the pioneering Dodgers ballplayer who integrated baseball in 1947; the "Say Hey Kid" Willie Mays; Roberto Clemente, Pittsburgh Pirates Hall of Famer and MVP; Walter Johnson; and Josh Gibson, who played most of his career with the Homestead Grays, considered one of the greatest players of all time and remembered for a monstrous 580-foot shot out of Yankee Stadium.
Tal Alter and his staff moved in between throngs of little people purposefully, making sure everything proceeded efficiently, putting out fires, smoothing out problems.
"We see this as one of many days and the first day of the Summer Academy," said Alter, the Academy's executive director. "We're trying to build a community and a culture, teaching rules, boundaries and structure. Baseball culture is the structure for building a good life."
"We want to help the kids develop positive character traits, help them to be good students and be healthy. Not all the kids are going to be athletes, but we want them to try, want them to take risks, risk failure."
Katina Lee, senior director of operations, agreed.
"What I, we want is to provide a safe environment for these kids and just want them to come back every day," she said.
Lee, 39, said girls will learn softball, which has the same fundamental rules as baseball but played with a bigger ball and a smaller field.
Officially opened in March, the Academy is a year-round educational and athletic facility which provides quality after-school and summer learning programs for D.C. boys and girls living in neighborhoods east of the Anacostia River. The facility features three playing fields and an 18,000-square-foot educational clubhouse with year-round batting cages, seven classrooms, a state-of-the-art teaching kitchen and community space for events. The Academy will eventually serve students in grades 3-8.
The D.C. Grays and Gonzaga High School baseball teams share the facility.
Nats brass, organizers and funders see the goal of the Academy as attacking many of the issues associated with chronic poverty which plague District residents who live in some of the city's most at-risk neighborhoods. All too often, young people in these communities lack access to the public support systems and quality programming that can help children develop positive character traits, succeed in school and avoid the varied health issues linked to poor nutrition and physical inactivity.
Their solution – the keys to lasting change – reside in immersing young people in high-quality youth development programming that's grounded in the positive values of baseball and led by trained and committed coaches and academic mentors. As a consequence, children will develop the skills and resilience necessary to overcome the challenges of poverty, reach their full academic potential and lead long and healthy lives.