P.G. County Group Eyes Green Economy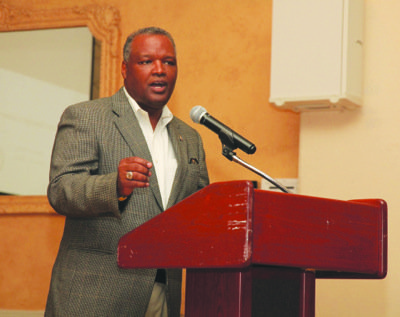 Environmental groups in Prince George's County are seeing green as they hope to raise awareness about a $1 billion plan that would bring thousands of green jobs to the county.
Members of the nonprofit group Prince George's Green said they aren't about hugging trees but are rather advocating for a green economy, workforce development, and green infrastructure in Prince George's County as it prepares an ambitious 10-year plan to revamp county waterways that will create 5,000 jobs.
"I realized there was a big disconnect from people looking for jobs," said Lisa Lincoln, executive director of Prince George's Green. "The average person doesn't realize there are 5,000 stormwater jobs out there – they don't know where the jobs are."
The effort is part of a $1.2 billion plan by Prince George's County to overhaul its stormwater management plan – part of a federal mandate. County planners envision a series of environmentally- friendly neighborhoods that decrease the pollution that goes into local watersheds by creating thousands of stormwater runoff devices. To do this, the county needs help to train and employ thousands of workers for jobs in engineering, landscaping, and construction.

"Our biggest priority is getting these contracts to qualified local [county-based] firms," said Adam Ortiz, director of Prince George's County Department of the Environment. "We're going to be looking to local nonprofits … to help our workforce pipeline."
Once complete, Ortiz said Prince George's County will have one of the most progressive stormwater management plans in the region with the installation of 40,000 stormwater devices in parking lots, along roadways, and in buildings. The devices will include rain gardens, which use plants or shrubs to capture water runoff in parking lots and roadways; it prevents excess water and pollutants from sinking into the groundwater system and into the local watershed. Funds to pay for the plan are a part of annual fees levied from property owners in the county.
"We have a very well received program with broad support," Ortiz said. "People will see more rain gardens next to parking lots and roads."
Still, environmental groups in the county said the biggest challenge continues to be raising awareness about efforts the county is taking to be more environmentally friendly. Environmental activists said up until recently, the county had been slow to embrace environmental awareness.
"I think the perception is that [environmentalism] is a luxury," said Lori Arguelles, executive director of the Alice Ferguson Foundation, an Accokeek-based nonprofit and farm that advocates for the education of sustainable agricultural practices. "Prince George's County has the opportunity to be the green corridor – green jobs, green businesses are [increasing]."
But Lincoln hopes Prince George's Green can help fill the gap in awareness and train potential job seekers for employment opportunities.
"I really see this as an economy [issue]. That's what resonates with people," Lincoln said. "We don't have the capacity to fill those jobs in the current situation."
County officials agreed that Prince George's has struggled in establishing local businesses to meet the needs of large development and infrastructure projects.
"We've been talking about this for years," said County Executive Rushern L. Baker III (D) during a Prince George's Green fundraiser on June 11 in Landover. Baker added the county has introduced progressive policy to encourage more nonprofit groups and other local organizations to step up.
"We're the choir," he said.
In recent years, the county has pushed to be at the forefront of progressive environmental policy in the state. After approving an aggressive stormwater management plan about a year ago, the county also became the third highest recycling jurisdiction in Maryland. Ortiz said the county is also investing in two solar farms in Upper Marlboro and Beltsville; the farms will use solar panels to increase the county's use of renewable energy.
The county will move forward with plans to initiate its stormwater management plan before the end of the year. Ortiz said the county will soon start promoting employment opportunities via job fairs and training programs for small businesses.
"I think we're doing well," Ortiz said. "I think within the next few years, we will become the leader in the state."