Washington Informer Earns Four NNPA Awards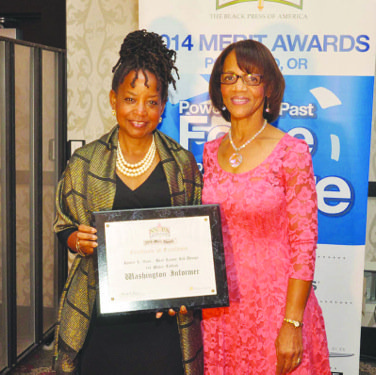 He said African-American readers rely on the black press more than white-owned publications and discussions that take place in local barber and beauty shops center on what's published in that week's black newspaper.
"They don't read the other papers first. They don't believe them," said Brown, who served 15 years as speaker of the California Assembly before serving as mayor. "[The black press] represents the source of inspiration, the sense of accuracy," he said.
With numerous categories up for grabs, the Informer enjoyed good company in capturing hardware in Portland.
The St. Louis American won the Russwurm/Sengstacke Trophy for general excellence for the third consecutive year and The New Pittsburgh Courier also picked up four awards.
The award received by the American honors John B. Russwurm, the co-founder of Freedom's Journal, the nation's first African-American newspaper, and the late Chicago Defender Publisher John H. Sengstacke, who in 1940 founded the Negro Newspaper Publishers Association, known today as the NNPA.
"The awards that are named after some of our publishers from the past are special," Rolark Barnes said. "We recognize them as role models in the black press and then to get the cheers from our colleagues when our names are announced is extremely exciting."
Rolark Barnes said that it's her fondest hope that her father will one day be honored by the NNPA with an award that bears his name.
In the meantime, she said, the paper will continue to commit to excellence and she and the staff look forward to the official celebration of the Informer's Golden Anniversary in October.
"It's special," Rolark Barnes said of both the awards and the anniversary celebration.