Young Ballers Showcase Skills at Annual DCHA Tournament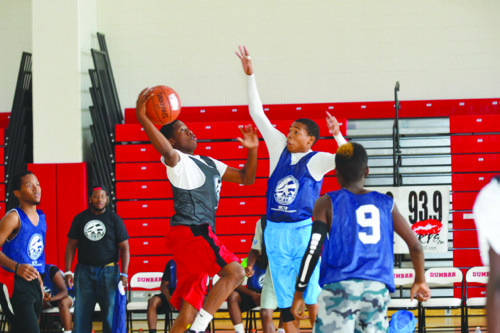 Fast breaks, fadeaway jumpers, lay-ups, and the shrill sound of whistles made for an action-packed weekend at a local high school in June.
Nearly 100 aspiring basketball players slipped on their jerseys, laced up their sneakers, and gave it their all on the court during the Fourth Annual Housing Choice Voucher Program Youth Basketball Tournament and Life Skills Event, hosted by the D.C. Housing Authority (DCHA) at Dunbar High School in Northwest.
"The children and their parents look forward to this event every year," said Adrianne Todman, executive director of DCHA, based in Northeast. "The children learn lessons when they play this team sport. It's not just about basketball but our educational workshops as well. It shows that we care about the well-being of our youth."
The exhibitions kicked off on June 28 with a pep rally and opening ceremony. More than a dozen teams, each named after a National Basketball Association franchise, competed in 17 matches. When students weren't showcasing their talents on the court, they learned the benefits of healthy eating, acquired leadership skills, and practiced tying a necktie in a Double Windsor knot during a host of workshops.

Guest speakers included Wanda Durant Pratt, mother of Oklahoma Thunder power forward Kevin Durant and D.C. Council member Muriel Bowser (D-Ward 4).
"I want all of you to play hard and exhibit good sportsmanship," said Pratt during the second day of the tournament on June 29. "My son Kevin Durant is a good basketball player but he's also a good person. He practices for long hours and does more than what coaches ask him. He did well in school and respected the adults in his life."
Pratt's message resonated with Tiajuana Strickland, an elementary school teacher who said that she often tries to stress the importance of an education to her nine-year-old son. Strickland cheered and waved her hands in support of her child, a member of the Lakers team, and later accompanied him to a workshop about the college application process.
"It's great that they did not just focus on sports," said Strickland. "My son has been playing basketball since the age of six. While I see his passion for the game, I also let him know if he has a passion for school work, [whatever he wants] will come," said Strickland, a Southeast resident.
For some young ballers like Troy Covington, the sporting event provided an opportunity to form new friendships. Troy's team, the Nets, snatched victory from the Magic within a matter of minutes on Sunday to become tournament champions in the 13 to 16-year-old division.
"It feels good showing people how well we can play," said Troy, 13, who considers Kevin Durant one of his favorite professional basketball players. "This was a great learning experience that allowed me to meet new people. I have played basketball since I was seven years old and I just like to have fun and show people what I've got," said Troy who lives in Northwest.
During her comments at the June 29 halftime show, Bowser, 41, made connections between the tournament and the need for additional extracurricular activities for the District's youngest residents. Bowser, also the Democratic candidate in the D.C. mayoral election, later expressed her commitment to helping DCHA expand the annual program to include more children.
"I like this focus on recreation and enrichment activities," said Bowser. "We need to do everything within our power to ensure that children have opportunities like this no matter where they live in the city. I would like to see what changes, if any, that adding children would make to [DCHA's] budget."
Ardent supporters of DCHA's efforts, like Lonnie Harrell, agreed with Bowser. Harrell, also known as And1's Prime Objective, served as a coach during the tournament for the fourth consecutive year.
"We had a great turnout this year but we need more children involved and we need more community support," said Harrell, 41, lead organizer of Team Prime Sports, a local youth basketball organization that he founded in 2013. "The Amateur Athletic Union's been taking over youth basketball but that's only for [a select number of young athletes]. This tournament can change lives," said Harrell, a Southeast resident.