Throng of Mourners Say Goodbye to Wayne Curry
Barrington M. Salmon | 7/10/2014, 1:45 p.m. | Updated on 7/16/2014, 3 p.m.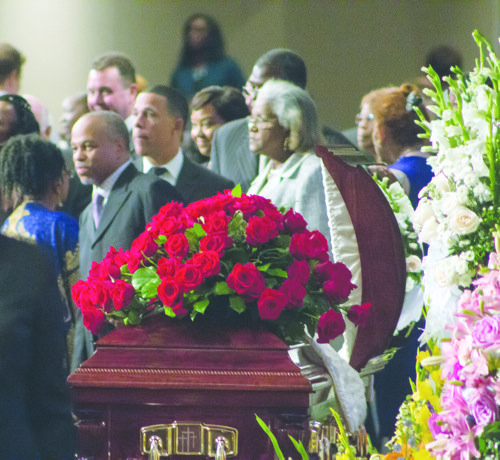 Hours before Wayne Curry's funeral got underway, a line of mourners snaked through the foyer from a designated door in front of the church, across the length of the building, all waiting patiently to bid farewell to the county's beloved son.
The funeral brought together the family, friends, colleagues, government officials, including 107 from around the region, associates and former employees of Curry, 63, a former county executive who for most of his 40 years of public service proved to be a force of nature.
Senior Pastor John K. Jenkins Sr. set the tone early and as a consequence, joyous reflections, applause and laughter replaced tears and palpable anguish.
"In case you haven't heard, we don't do funerals. We do home-going services," Jenkins told a crowd estimated in the thousands seated in First Baptist Church of Glenarden in Upper Marlboro. "We come to celebrate the life of an exceptional individual who had had such an impact on so many people's lives."
"We are so much better because he was in this county. Not just the county but the region is better."
Curry's casket, positioned directly in front of the sanctuary, stood surrounded by colorful floral displays, wreaths and sprays. The bereaved hugged each other, chatted in small groups or sat silently before the service began. Mourners gathered around the casket, some paused to look at Curry, resplendent in a smoky grey suit. Some prayed and still others touched him, patted him or touched the casket.
The wide spectrum of mourners illustrated Curry's impact and reach and a succession of speakers remembered his vitality, infectious humor, assertiveness, bluntness and dedication and concern for his beloved community.
Prince George's County Executive Rushern Baker III, quoted American politician and diplomat Adlai E.Stevenson, II to describe Curry.
"He was so contemporary a man, so involved in our world, so immersed in our times, so responsive to its challenges, so intense a participant in the great events and the great decisions of our day, that he seemed the very symbol of the – of the vitality and the exuberance that is the essence of life itself," said Baker. "Today we mourn him, tomorrow we will miss him."
"And so we shall never know how different the world might have been had fate permitted this blazing talent to live and labor longer at man's unfinished agenda ... Thank God this blazing talent was allowed to blossom. He was our blazing talent, our symbol of vitality who set the agenda."
Baker, a close friend and protégé, said he'll miss Curry, who he described as a great man, person and mentor.
"I loved your dad so very, very much. The Maryland flag is flying at half-mast today in honor of Wayne," Maryland Gov. Martin O'Malley said directly to Curry's family. "This is a difficult and humbling couple of moments. It's tough to encapsulate the life of a giant of a man in a few words."
O'Malley said his colleague and friend exhibited a depth of caring and fearlessness rarely seen by ordinary people, much less a politician.