Throng of Mourners Say Goodbye to Wayne Curry
Barrington M. Salmon | 7/10/2014, 1:45 p.m. | Updated on 7/16/2014, 3 p.m.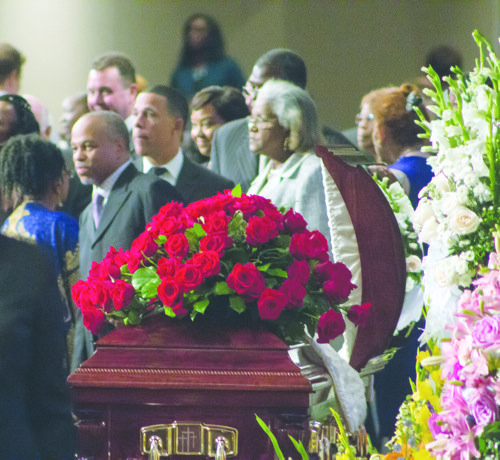 "I'm proud and gratified to see the growth and Rushern moving the county forward," he said.
"… There are so many stories running through my head. One that Wayne really loved was how he raked Jack Kent Cooke over the coals. Boy, he enjoyed poking fun at the powerful."
O'Malley referred to the hard-knuckle negotiations between Curry and the owner of the Washington professional football team that led to the organization leaving the District for Landover.
Speakers recalled numerous colorful stories about Curry, who died of lung cancer on July 2, about his super-sized personality, his unwillingness to accept anything but the best for Prince George's County and especially his success in transforming a sleepy, rural county into a regional African-American powerhouse.
Often referred to as "Mr. Prince George's County," Curry, the county's No.1 one booster, used the bully pulpit of county executive to advance his vision of the county's future and promise.
A millionaire real estate attorney, businessman and powerbroker, Curry enthusiastically embraced politics. Dozens of Maryland politicos and officeholders attended the 90-plus minute service. In 1993, he shocked the Democratic Party machine and others in the political realm when he ran for county executive and won. He served from 1994-2002 and inherited a deficit but left the county in good financial shape with a surplus by the time his second term had ended.
Speakers called Curry a trailblazer, visionary leader, one of compassion and with a finely honed sense of humor. As brilliant as he was combative, people either embraced or were turned off by Curry's confidence, brashness and assertiveness.
Pat Thompson called his friend of 40 years a visionary, very motivated by politics.
"I think you have to have all that – being acerbic, arrogant, confident – in the mix," said Thompson, a vice president of NAI Michael, a commercial real estate company where Curry first worked and later served as president. "He tried to change the image of the county and succeeded in doing that. I imagine there were many hurdles to succeed and it took some time."
"I remember him fondly. He was always friendly, had an infectious laugh."
Journalist Mark Plotkin broke into a broad grin when asked about Curry.
"I interviewed him a few times and he had a jauntiness of life," he said. "He wasn't a blow-dried politician. He seemed to enjoy himself and other people. He toyed with running for governor and it was enjoyable to see someone reveling in the tease. He was an unusual politician loved by people."
Senator Barbara Mikulski (D) said people never just had a meeting with Curry.
"It was an encounter, an experience. And without an outcome, you'd be out and not invited to come back," she joked.
She related the story of the pair's reaction when bureaucrats from the General Services Administration said they planned to build a barbed wire fence around a federal building in Suitland.
"As Wayne listened, I promised that I'd chain myself to a fence. Wayne said, 'I'll raise the ladder, I'll get you the bails bond …'" Mikulski said as mourners broke into laughter. "He's in heaven and our Dear Lord would not put him beside Mother Teresa."
Kweisi Mfume offered a succinct assessment of Curry.
"He didn't compromise his ideas or values and he was always guided by the basics of justice," said the former five-term Maryland congressman. "He was a stalwart, loyal and patient … a true leader."
Hendrith Smith, a beneficiary of Curry's largesse, agreed.
"He was a visionary, principled and tireless. Why was his work significant? Because it came from the heart. He felt totally vested in his community and he never lost sight of what others had done before him," said Smith, a 48-year-old Alexandria, Virginia resident who Curry gave his first job in 1999.
Artist Michael Anthony Brown remembered Curry warmly.
"We talked a few times about everything," Brown recalled. "He was very warm, very open, very friendly. He was full of information in a ton of areas. He accomplished a lot of good during his time on earth. The world always misses beautiful people. It's as if the sun stops shining and rainbows disappear. There are a lot of things he accomplished that affected a lot of people who may not even have known his name."
D. Kevin McNeir contributed to this story.