McDuffie Endorses White for D.C. Council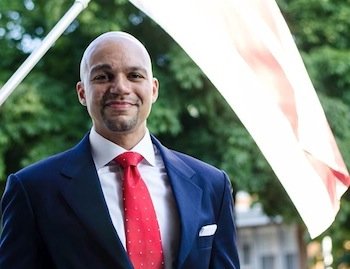 D.C. Council member Kenyan McDuffie (D-Ward 5) has endorsed independent Robert White, a former staffer for Delegate Eleanor Holmes Norton, to fill the Council's non-Democratic at-large seat.
McDuffie, who is expected to cruise to re-election in November, said he likes White's ability to overcome challenges.
"Like residents across the District of Columbia, Robert knows firsthand what it is like to battle adversity and defy the odds," McDuffie said. "He overcame the personal tragedy of losing a parent as a child, became the first person in his family to graduate from college and developed into a first-rate attorney."
White, a graduate of St. Mary's College and the American University Law School in Northwest, welcomed McDuffie's nod.
"I am humbled and honored to have the endorsement of Council member McDuffie," White said. "He is a distinguished member of the council with broad respect across the city."
Among White's independent opponents are former journalist and budget analyst Elissa Silverman, D.C. shadow senator Michael D. Brown and the Rev. Graylan Hagler. There are two at-large council positions set for the Nov. 4 general election and Council member Anita Bonds (D-At Large) is expected to get one of the seats because of the city's overwhelming Democratic base.
The District GOP and other minor political parties also have candidates for one of the at-large seats.
White's candidacy has drawn the interest, but not yet the endorsement, of Council member David Grosso (I-At-Large), The Informer reported recently.
McDuffie, who serves as the chairman pro tem of the Council, said he did not take the endorsement decision lightly.
"It is critical that District residents elect the right person to serve on the council at this time in our city's history-a candidate that understands our city's unique issues and the promise of our future," he said. "Robert's commitment to his community and years of experience crafting legislation as a staffer to Del. Norton separate him from the pack of candidates seeking the at-large council seat reserved for a non-Democrat."