CBC Blasts Boehner for Attempt to Sue Obama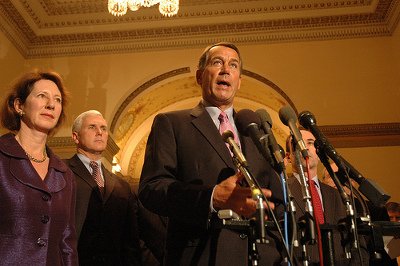 Ohio Rep. Marcia Fudge (D), the chairman of the Congressional Black Caucus, criticized House Speaker John Boehner for his efforts to sue President Obama over alleged abuses of executive authority.

"Once again, the House Republican leadership has shown its complete disregard for the democratic process and for the American people," Fudge said Thursday. "While Speaker Boehner could focus on passing legislation that would address any of the many challenges facing our nation-economic recovery, education, immigration reform or voting rights — he has chosen to bring a frivolous lawsuit against the President of the United States."

Since the Republicans took control of the House in 2011, they have had over 50 votes to repeal Obama's health care plan, censure U.S. Attorney General Eric Holder, shut down the federal government or stall progress on the president's legislative agenda.
Fudge said that her GOP colleagues should be doing the work of the people instead of distracting from the party's true problems.

"Instead of doing the work that will help this nation progress, the Republican leadership has decided to throw taxpayer dollars down the drain with another meaningless stunt that will benefit no one — not even their own party," she said. "It is an effort to deflect attention away from the fact that under their leadership, this has been the least productive Congress in the history of this country. … Through consistent obstruction, dysfunction and a steadfast unwillingness to serve the American people, the Republican leadership has once again abused their power as they continue to demean and disgrace this House."