COMMENTARY: A Premature Honor for RG3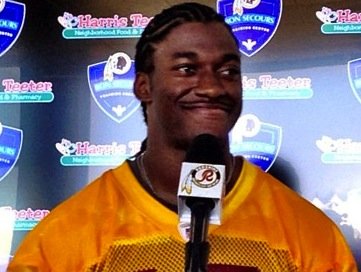 First and foremost, let me say that I'm a big fan of Robert Griffin III. He's our hometown quarterback, the leader of our beloved Washington professional football team (bear with me — I'm phasing the word "Redskins" out of my vocabulary).
Griffin can pass the ball, and run the ball. He's also a great leader who has earned the respect of his teammates and players across the league. He probably came back from a serious knee injury too soon last year. But if and when he realizes his full potential, he could be a top-tier NFL quarterback.
But this column isn't about his bright future. Rather, it's his past that in question, particularly a plan by his alma mater, Baylor University to erect a erect a 9.5-foot tall, bronze statue of the quarterback by next season.
Baylor University, behind the efforts of alumni John and Patricia Wood, will put the statue in the south end-zone plaza of Baylor's newly-built 45,000-seat McLane Stadium. Project managers say the statue will be completed in time for the Bears' season opener against SMU on Aug. 31.
Griffin played three seasons at Baylor, a Big 12 school in Waco, Texas. Without question, he had a good college career; After all, he was voted the conference's Offensive Freshman of the Year in 2008 and eventually won the Heisman. But was it a great, statue-worthy career?
Think about it: In 2009, he tore his ACL in the third game of the season, missing the remainder of the schedule. The NCAA ruled that the season didn't count against his eligibility since he missed so many games, so that year was a mulligan. But in 2010, neither RG3 nor the Bears set the world on fire. Baylor finished the season 7-6 (4-4 in the Big 12).
It was only in 2011 when we saw the emergence of the RG3 that we've come to know today. Griffin passed for 37 touchdowns and crossed the goal line 10 more times on rushing plays. He posted 4,952 yards of total offense while leading Baylor to a 10-3 record and an Alamo Bowl victory over the Washington Huskies.
But that was it. By January 2012, he declared his intention to enter the NFL draft, just a month after winning the Heisman. So essentially, one solid freshman season and an all-world junior campaign. That's enough to get a statue?
I understand that the Baylor football program isn't legendary. It doesn't have a rich tradition of gridiron success. But to say that having a statue of RG3 outside of McLane Stadium is a bit of a stretch would be a major understatement. Quite frankly, it's irresponsible for Baylor to build such a statue. It sends a message that indirectly minimizes the significance of statues everywhere.

Statues are the world's attempt to immortalize an individual. But the individual has to accomplish something that warrants their immortalization. I support RG3, but I can't get behind the notion of seeing a statue of him on the way into the stadium. I'm sorry, but winning a Heisman and the Alamo Bowl doesn't earn you a statue.