COMMENTARY: A Premature Honor for RG3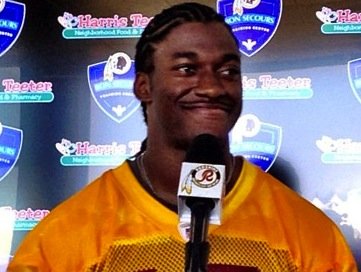 Sports legends, through their great accomplishments, have earned the opportunity to have statues erected in their likeness. Michael Jordan, Magic Johnson, Hank Aaron and other sports greats have statues built in their honor. RG3 is simply not in the same class. Not even close! These legends all had long, prolific careers in which their accomplishments placed them near, if not at, the top of their sport. Their individual performances have left indelible memories in the psyche of those who witnessed them play.

It's a bit premature for us to evaluate the pro career of RG3. Truth is, he's only played one full season. In terms of his college career, he had one really good year. Does his body of work as a football player warrant him being immortalized through a large statue? Absolutely not!
I don't hold Griffin responsible for any of this. It's not his fault that the folks in Waco are making such wacky decisions. And I'm not suggesting that anyone start a movement to prevent the construction of the statue. I am suggesting, however, that the installation of a statue honoring a 24-year old football player who has a decent body of work is inappropriate on several levels. In fact, it's just plain wrong.