Four D.C. Students Tapped as 2014 Milken Scholars
Dorothy Rowley | 7/14/2014, midnight | Updated on 7/16/2014, 4:29 p.m.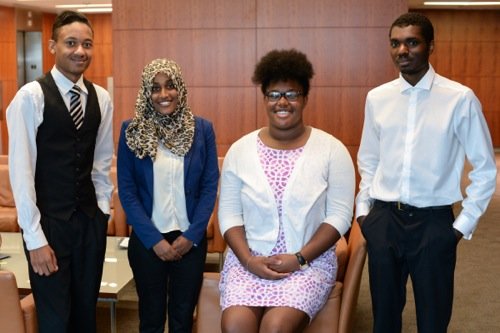 Four District of Columbia public and charter schools students are among 24 high school graduates selected as 2014 Milken scholars.
The students — Sinclair Blue of School Without Walls High School; Stewart Gray III of Thurgood Marshall Academy; Ekram Jiru of Banneker Senior High School; and Daniel Spruill of Friendship Collegiate Academy Public Charter School — were each honored with a $10,000 scholarship during a July 12 dinner ceremony in New York.
"These remarkable students have already proven they have the capacity to change the world for the better," said Gregory Milken, program director. "The Milken Scholars program provides them with the support to develop their potential and become tomorrow's leaders."
Milken scholars are chosen based on their academic performance, community service, leadership and ability to persevere in the face of challenges.
Sinclair, who has consistently been recognized as an outstanding leader, has also been honored with the national Amigos de las Americas American Leadership Award for her work as a volunteer in Ecuador and the Dominican Republic. She heads to Scripps College this fall to study political science, philosophy and economics.
Stewart is the first student in Thurgood Marshall's 13-year history to be accepted to an Ivy League college. After reviewing his long list of college acceptances, he chose Stanford University where he will study electrical engineering and science for a career in research and development, with a focus on design.
"In school, I excelled academically because I always wanted to know why things were instead of accepting things as they are," said Stewart, who spent last summer participating in a highly competitive STEM program at Stanford University. He has also excelled in track and field, where he was merited the Coach's Award and most recently recognized as Most Outstanding High School Graduate by the DC Association of Chartered Public Schools.
Ekram, salutatorian of her class, wants to encourage others, especially young people, to take action whenever they can to bring about positive change.
"I want to give them the tools they will need to solve the most pressing issues of our times," she said. "Anyone can take action to change their communities if they have the passion for it."
Ekram also wants to help other English as a Second Language students that faced the same obstacles she encountered when she moved to the United States in the sixth grade and knew no English. Her achievements include recognition as an Advanced Placement (AP) Scholar, winner in the state STEM Physics Fair, STEM Awards in Environmental Science and Molecular Biology, the Cornell Book Award, National Mathematics Honor Society, National Honor Society, and National Latin Exam Gold Medalist.
Daniel will attend Princeton University in the fall to study electrical engineering and computer science for a career as an innovator. He wants to create technology at reasonable prices with the motto of his company being, "Imagine if the next big thing was affordable for all."
In addition to serving as class valedictorian, Daniel is also an AP Scholar and member of the National Honor Society. He was named the Most Outstanding Mathematician in 2013 by the District of Columbia Public Charter Schools and was a member of the Science Bowl team.
As a student representative on the District of Columbia Board of Education, Daniel recognized that his opinion "didn't just matter, but was a crucial part of the decision process."