AIDS Walk Has a New Name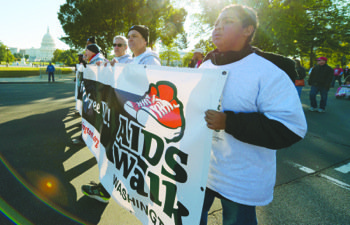 The Whitman-Walker Health clinic in Northwest recently announced that, after 27 years, it is changing the name of its signature activity.
AIDS Walk Washington will now be known as The Walk to End HIV, a change that Whitman-Walker Health executive director Don Blanchon said is a sign of the nation's evolving view of the disease.
"This name change reflects a cataclysmic shift to what HIV is today — a chronic, manageable disease," Blanchon said. "Historically, the term AIDS was about a plague we had no answers for and almost certain death for those diagnosed. Thankfully, this has changed dramatically over the past three decades."
Blanchon said the name change is more than a symbolic gesture.
"It is a way to focus attention on getting us to that ultimate finish line — providing care for all who are HIV-positive and getting to zero new infections," he said.
The event, which will be held Saturday, Oct. 25, aims raise $1 million for Whitman-Walker Health and its community partners.