Gray Lauds Milestones Reached in Ballou Modernization
dc.gov | 7/15/2014, 11:56 a.m.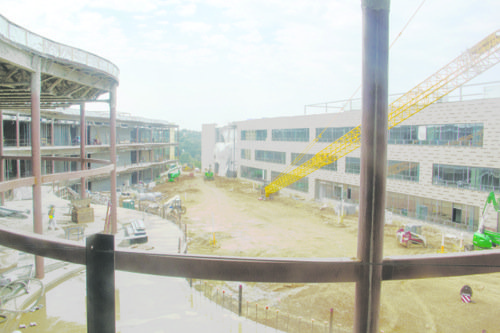 D.C. Mayor Vincent C. Gray celebrated Tuesday the topping out of steel on the new Ballou Senior High School, which signifies that the steel frame for the building is complete and the Phase 1 of the project is now less than six months away from substantial completion.
Gray was joined by Ward 8 Council member Marion Berry, Department of General Services (DGS) Director Brian J. Hanlon, and other Ward 8 leaders and officials at the site of the new high school.
"The topping-out celebration marks a major milestone in the construction schedule as it brings us one step closer to the completion of what will be an amazing educational facility for teachers, students and the Ward 8 community," Gray said. "And today we're less than six months away from completing Phase 1."
About 2,500 tons of steel has been used in the structure of the new high school, which is equivalent to 150 semi-trucks and trailers, or a third of the weight of steel in the Eiffel Tower. District and community leaders congratulated the work that has been completed to date by the 300 construction workers, who have already logged about 275,000 manpower hours on the project.
"The countdown has officially begun, and we are six months away from an exciting new Ballou High School," said D.C. Public Schools Chancellor Kaya Henderson. "I greatly appreciate all the hard work that has gone into the process thus far and I can't wait to be back here in six months when our students and teachers can move into this beautiful new building."
Phase 1 of the modernization project is scheduled to be substantially completed in December 2014, and will feature 37 classroom spaces; 13 science and biotechnology labs; dedicated spaces for visual and performing arts; a greenhouse; an exhibition-style teaching kitchen kitchen with classroom space; a state-of-the-art auto-tech lab complete with lifts, paint booth, and classrooms; television and recording studios; spaces for barbering and cosmetology instruction; a swimming pool; and main and auxiliary gymnasiums.
"DGS believes in pushing the envelope when it comes to building design and performance, and we are especially proud of the new Ballou! Its interior spaces, community amenities, and sustainable design will reflect the awesome spirit of this place." Hanlon said.
The new Ballou will be ADA-accessible and at a minimum will achieve a LEED for Schools Gold rating. Upon completion, the new Ballou will serve 1,400 daytime students and up to 900 part-time evening students, with community group space for outside organizations working within the high school.