Actor Resurrects the Spirit of Rodney King
Roger Guenveur Smith Stars in Solo Performance
D. Kevin McNeir | 7/16/2014, 3 p.m.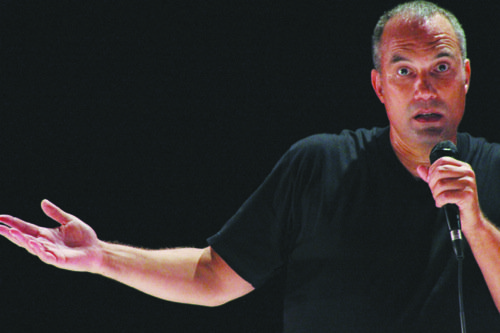 The tragic story of Rodney King remains one of the darker moments in America's centuries-old relationship with its racial past and present.

Perhaps no one knows that more intuitively than actor, writer and director Roger Guenveur Smith who currently stars in a one-man show, "Rodney King," at the Woolly Mammoth Theatre Company in Northwest, in which he portrays the role of a common man thrust into history's spotlight.
"My struggle in this piece is trying to find the man behind the myth," said Smith who blends improvised movement, text and spoken word in a performance described as "deeply moving."
"Of course, Rodney King is a symbol but the more provocative question is who was he really? For many he was a human piñata – the LA cops went off on him and we have a video of that beating which we watched, rewound and fast forwarded. Somewhere in all that was an everyday black man," the actor said.
Recently featured in the Under the Radar Festival at the Public Theater in New York and at the Radar L.A. Festival, the play opens with excerpts from Geto Boys defect Willie D's "* * * * Rodney King" in which the rapper pulls no punches in declaring his disgust with King's attempt to offer an olive branch after riots erupted in the City of Angels.
The play ends with King's May 1, 1992 speech in which he asked, "Can we all get along?" Smith said the statement and King have both often been lampooned.
"Ironically, Rodney, and Huey P. Newton, whom I've portrayed on stage as well, both died at 47 and both came to national recognition because of their interactions with the police departments of L.A. and Oakland, California [respectively]," said Smith, a California native who's been featured in films "Do the Right Thing," "Eve's Bayou" and "Malcolm X."
"So it's a strange confluence of fact and fiction that I've been able to bring to the stage. I consider it a blessing to tell Rodney's story, but I'm more blessed by the questions that my portrayal has raised," he said.
Storytelling continues to be critical to self-awareness said one young woman after the show.
"Rodney King is gone but his struggle and the pain he endured remain relevant for blacks and all Americans," said Germantown, Maryland resident Janine Clay. "My grandmother lived in Southeast [D.C.] and she and my parents taught me the risks and challenges we face simply because of prejudice. Maybe I'm a distant relative of Rodney King," said Clay, 25.
One septuagenarian from Northeast said she fears that today's youth aren't being taught their history.
"My five grandchildren probably don't know anything about Rodney King and I fault the schools for that," said Marie Lee, 70. "I'm a child of the 60s and I remember it all. The play brought that back to my mind and I believe allowing story's like King's to be forgotten make it highly possible for such tragedies to occur again."
Newspaper reports that King, a construction worker in Los Angeles, afraid to stop his car after seeing flashing lights in his rearview mirror soon found himself being pummeled by several police officers at the end of a high speed chase.