Actor Resurrects the Spirit of Rodney King
Roger Guenveur Smith Stars in Solo Performance
D. Kevin McNeir | 7/16/2014, 3 p.m.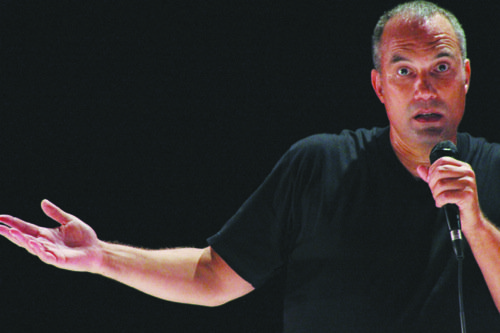 A young black man from Southeast described King's saga as a "cultural event."
"I was in elementary school when King was beaten and the riots later happened and my dad made sure we talked about it at home," said Andre Faulkner, 31. "Now we have our first black president being challenged on every front and gays demanding the same rights as any other U.S. citizen. Rodney was right to ask about us all getting along – we still aren't."
One woman from Great Falls, Virginia said the play reminded her that our lives intersect in more ways than we can imagine.
"We may remember what happened to Rodney King but the actor's words revealed that there were so many other stories – so many terrible things – that happened in Los Angeles after the 'not guilty' verdict was announced," said Tiane Mitchell-Gordon. "Blacks, whites, Asians, and Hispanics – they all lost their homes, businesses and lives. Was that because we still can't get along?" asked Mitchell-Gordon, 59.
One Howard University graduate said after previously seeing Smith capture the essence of Black Panther Party co-founder Huey P. Newton on stage, he couldn't wait to see how the thespian would transform himself into Rodney King.
"Smith was so powerful and to do it without any props and to improvise the text just shows how talented he is," said Jeff Kirkman, 28. "He made a real connection with the audience and I really felt like I was listening to Rodney King pour out his heart to me. What still baffles me is why we [blacks] always burn down our own communities when things go wrong in America," said the Silver Spring, Maryland resident.
Smith said that while the play has not been scripted, he believes that by the end of its two-week run, he may be ready to abandon improvisation.
"This is the most extensive run of this show – only the parts from Willie D's song and the end that takes up King's words about 'getting along' are put down on paper," Smith said. "The rest comes from the energy and responses I receive from the audience."
Woolly Mammoth Artistic Director Howard Shalwitz said Smith's performance "extends an important conversation about race."
"[Roger's] complex perspective on Rodney King's life explores a range of emotional responses and restores simple human dignity to a man who accidentally became a national symbol of racial persecution," Shalwitz said.
Rodney Glen King III died due to an accidental drowning in his backyard pool on June 17, 2012.
"Rodney King" runs through Sunday, July 20 with two performances on the weekend. For tickets, go to www.woollymammoth.net.