Chick-fil-A at P.G. Mall Stymied by Drive-Thru Regs
William J. Ford | 7/16/2014, 3 p.m.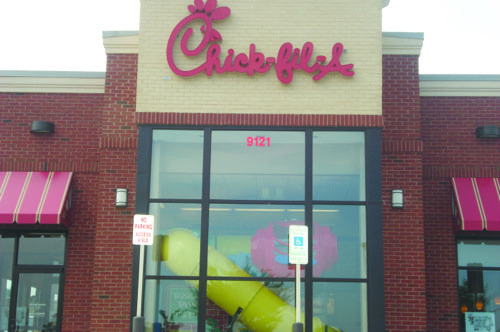 Fans of Chick-fil-A anxiously wait to enjoy grilled and breaded chicken, an assortment of salads and hot fries at a proposed restaurant slated to open at the Mall at Prince Georges.
But there's one problem: the county's zoning law doesn't allow fast-food businesses to build drive-thru windows on the property along East West Highway in Hyattsville. The county's Planning Commission will hold a public hearing at 10 a.m. Thursday, July 17 to discuss the plan.
"We don't see a drive-thru being a big problem. If they can put drive-thrus in places like a liquor store, then this shouldn't be a deterrent," said LaVerne Williams, 88, president of the Lewisdale Civic Association in Hyattsville and a Chick-fil-A supporter. "There are very few American [restaurants] in the area now. [Chick-fil-A's] all-American."
Hyattsville City Councilman Edouard Haba also supports the business, but there's a caveat – without a drive-thru.
"We want to keep the area as a family-friendly district. We are trying to make the area pedestrian friendly," said Haba, 32, who has lived in the city for five years. "Adding a drive-thru to it would not help and it is not allowed."
According to county documents, the 51-acre site zoned Commercial Shopping Center and Transit District Overlay doesn't permit drive-thrus because "proposed eating and drinking establishments that includes drive-[thru] service associated along East West Highway would create a queuing of automobiles that would serve to inhibit and not promote pedestrian and bicycle mobility …"
Chick-fil-A of Atlanta seeks an amendment to build a drive-thru connected with a 5,030-square-foot building facing East West Highway adjacent to a T.J. Maxx department store. The current area serves as a parking lot.
The company's website states that the Hyattsville location would be its ninth restaurant in Prince George's County.
The company's plan received high marks in October when the Planning Commission recommended the District Council approve it, but without a drive-thru.
In April, the council sent the plan back to the commission to reassess the drive-thru component and solicit additional input from the public.
Fourteen Hyattsville residents signed a letter dated May 6 in favor of the project. Williams penned a separate letter on the same date representing her civic association.
Daniel Lynch, a Greenbelt attorney representing Chick-fil-A, declined to comment last week.
But a letter from Lynch on December 23, said the Planning Commission gave the OK in 2008 to allow BB&T Bank to build a drive-thru. The bank borders the mall property on East West Highway, but lies within the zoning district.
"That's what I don't understand," Williams said. "That has a drive-thru, so I don't see what the problem is."
Banks are allowed drive-thrus in that zoning district, according to the county ordinance.
Jim Chandler, the director of Hyattsville's Community and Economic Development Office, included portions of a drive-thru performance study in an April 29 memo to emphasis more vehicular traffic comes from a fast-food restaurant than a bank.
The data, released last year by QSR Magazine of Chapel Hill, North Carolina, and Insula Research of Columbus, Ohio, calculated 20 transactions per hour at the bank in Hyattsville and a Chick-fil-A on Elwood Drive in Silver Spring. The memo stated that the bank received 3,960 transactions between the hours of 9 a.m. to 5 p.m. Monday through Friday and a half-day on Saturday. In comparison, nearly 7,000 transactions took place at the Chick-fil-A between the hours of 6:30 a.m. to 10 p.m. Monday through Saturday. The memo didn't specifically state when and how long the groups analyzed the data.
"It just shows how much more traffic comes through a fast-food restaurant," Chandler, who's also the city's assistant administrator, said July 11. "We thought it was a fair way to look at it."
Eveline Wanneh didn't know about Chick-fil-A's plan to build a restaurant in her backyard. When she learned that a fast-food business isn't allowed to construct a drive-thru on the mall property, she gasped.
"It's difficult to not have a drive-thru at a fast-food place," said Wanneh, who has five children ages 4 to 16 and would support a Chick-fil-A in Hyattsville. "When I go to places like that, I sit in the car and drive through. It is much more convenient."