CURRY: Republicans' Selective Memory on Executive Orders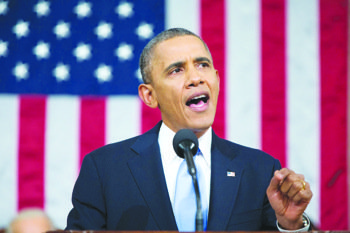 To paraphrase Ronald Reagan, arguably the most overrated U.S. president in history, there they go again. They, of course, are Republicans in the House of Representatives. And they are going after President Obama yet again, this time over his use of executive orders, presidential directives that have been issued by every president over the past 73 years.
First, let's brush up on our high school civics.
According to a report by the Congressional Research Service (CRS), "Presidents from Franklin D. Roosevelt through Barack Obama have issued orders that seek to leverage the government's procurement spending to promote socio-economic policies that some commentators would characterize as extraneous to contractors' provision of goods or services to the government."
The report, titled "Presidential Authority to Impose Requirements on Federal Contractors," explained, "Presidential power to issue executive orders must derive from the Constitution or from an act of Congress. Contractor-related executive orders historically have been issued based upon the President's powers under Article II of the Constitution or the powers delegated to the President by FPASA," a reference to the Federal Property and Administrative Services Act of 1949.
The CRS report noted. "FPASA states that its purpose is to 'provide the Federal Government with an economical and efficient system for … [p]rocuring and supplying property and nonpersonal services' and authorizes the President to prescribe any 'policies and directives' consistent with the act that he 'considers necessary to carry out' the act's goals of efficiency and economy."
One of the most significant presidential actions was Executive Order 11246, which was signed by President Lyndon B. Johnson on Sept. 28, 1965. It requires federal contractors to "take affirmative action to ensure that applicants are employed, and that employees are treated during employment, without regard to their race, color, religion, sex or national origin."
Of the past 10 presidents, beginning with Franklin D. Roosevelt, President Obama has issued the fewest executive orders per year. According to the American Presidency Project, Obama issued 147 executive orders during his first term, compared to 504 by FDR, 266 by Dwight D. Eisenhower, 247 by Richard M. Nixon, 213 by Ronald Reagan, 200 by Bill Clinton, and 173 by George W. Bush over a similar period.
As of June 20, Obama had issued 35 executive orders during his second term.
His executive actions have stopped the deportation of immigrants who entered the U.S. illegally as children, affected climate change by compelling power plants to reduce their emissions by 30 percent by 2030, raised the minimum wage for federal contractors to $10.10 an hour, extended rights for same-sex couples and impacted gun control with 23 separate executive orders.
Strangely, Republicans, who have voted 54 times over four years to repeal or alter the Affordable Care Act, are not planning to sue President Obama on any of those issues. Instead, House Speaker John A. Boehner (R-Ohio) has asked Congress for permission to sue Obama because he suspended the start date of the employer mandate provision of the health care law.
It doesn't get more ridiculous than this. Unable to repeal what they call Obamacare, House Republicans are moving faster than the lips of an auctioneer on crack to sue the president because he is making it easier to comply with what everyone except anti-Obama Republicans recognize as the law of the land.