D.C. Political Roundup: Catania Courts Black Voters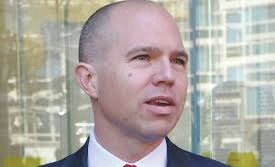 D.C. Council member David Catania (I-At Large) is running an aggressive campaign for mayor and he wants the backing of the District's black community. His efforts aren't going unnoticed, with pastel blue and white Catania signs popping up in the yards of predominately black neighborhoods.
Catania has the support of African-American leaders such as Barbara Lang, the former president of the DC Chamber of Commerce. But, to the surprise of many, Paul and Barbara Savage – one of the city's most active and influential Democratic couples – has decided to throw their weight behind Catania instead of their party's nominee, D.C. Council member Muriel Bowser (D-Ward 4).
"We have worked with David Catania on issues of critical importance to communities in east Washington and the entire city," the couple said. "He has demonstrated that he cares about all residents both young and old, and he has a record to prove it – from his laser-like focus on public education to improving long-term care options for senior citizens."
The Savages played a key role in recruiting Anthony Williams to run for mayor in 1998. Williams, 62, who served as the city's chief executive from 1999-2007, endorsed Bowser on July 4, however Burl Randall, who lives in Southeast, said that he votes Democratic but will support Catania.
"I will vote for the person I believe will be the best mayor for the city and that is David Catania," said Randall, 29. "I think he will do a better job than Muriel Bowser."
Catania's critics insist that he can be difficult to get along with and at times, quite outspoken on issues he cares about during council hearings. Thomas Bennett, who lives in Northeast, likes that about the council member.
"David gets things done when he makes people mad," said Bennett, 65. "He has fight in him and I like that. He reminds me of Marion Barry."
Bennett said that he knows nothing about Bowser.
However, one of Catania's former confidantes and close advisers, Johnnie Scott Rice, supports Bowser.
"I worked for David for seven years in his council office and I think she deserves to be mayor and he does not," said Rice, 73. "In my view, he is not running for mayor for the right reasons. I don't think he really cares for the city like some people think he does and he is not going to win anyway."
Warren-Jones Opts Out
Monica Warren-Jones, the African-American Ward 6 D.C. State Board of Education member, has decided not to seek re-election in the Nov. 4 general election and that has some blacks in the ward worried.
"It has been an honor to serve my ward and city, and I take pride in the role our state board plays in representing the interests of District of Columbia students," said Warren-Jones, 52. "While I have valued this work, I am ready to focus my energy on ensuring that families have the appropriate housing and services that are so critically needed to support their children's educational success. I am passionate about doing my part to address the stubborn inequality that exists in our city, which as it stands, has not allowed many of our fellow citizens to thrive and provide for their children's basic needs."
There's concern among longtime African-American residents of the ward that black political representation could be at risk with Warren-Jones's departure. The ward has shifted from majority black to majority white in the last 20 years and whites started asserting themselves politically when they helped Harold Brazil defeat incumbent D.C. Council member Nadine Winter in 1990.
Ward 6 has had white representation on the D.C. Council since the election of Sharon Ambrose in 1996.
Warren-Jones said that she's talked to individuals who are interested in her position but has yet to decide who she will support. She said that the fears some blacks have about a white board of education member are unfounded.
"The State Board of Education puts in standards for all children and the board has strong leadership," said Warren-Jones, who lives in Northeast. "The lack of diversity is not an issue. We represent everyone and in that you have strong diversity."