LETTERS TO THE EDITOR: Releasing Psychological Chains
7/16/2014, 3 p.m.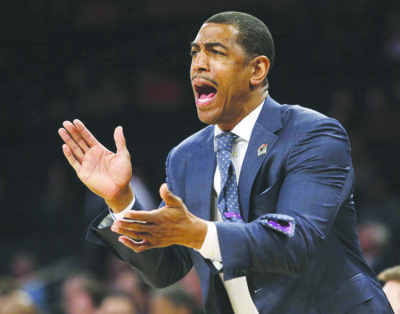 When I read the article by Stacy Brown, "The Disappearance of the Black Coach," July 3, 2014 edition, there was one sentence in the story that I couldn't get out of my mind. It was where the former coach Brian Ellerbe was talking about how black parents weren't sending their kids to play for black coaches, and I quote, "The only time they send their kids to us, the only time they want a black coach involved is when their kid is in trouble and, I'm here to tell you that the D.C. area is one of the biggest culprits."
Wow, that is a heavy sentence. I kept thinking to myself, why would you not want your son to play for a black coach? All sorts of thoughts started popping up in my mind. To me, the issue of race and the psychological effects of slavery still haunt us, each and every one of us, every day, and in most of our decisions.
We as a black community must continue to work hard at breaking those psychological chains that weight us down. Then and only then will we be able to see everyone for who and what they are on an equal basis.
Eugene Keaton
Washington, D.C.
An Informed Electorate!
As a Ward 8 resident I would like to thank The Washington Informer for your coverage of our section of the city. In this week's edition of the paper your articles in the D.C. Political Roundup by James Wright about the Ward 8 Democrats gave me insight into the political happenings in our ward. I don't ever remember any other media source covering Ward 8 politics the way The Informer does. I have always felt that everyone who participates in an election should be as informed as possible, and you and your staff do a great job of seeing that we are.
The other article that's of great importance was the one written by Stacy Brown, "D.C. Council Seeks to 'Ban the Box.'" So many of our young people return home having paid their debt to society, but still are unable to find meaningful work because employers want to continue to punish them by denying them a chance at a job based on their past. I'm sure it is happening all over the city, but it is more prevalent here in Ward 8. I applaud those on the city council who are trying to get rid of this discriminatory practice.
Benny Jackson
Washington, D.C.

Congratulations on NNPA Awards
I want to extend my warmest congratulations to the Washington Informer for its most recent achievement: "Washington Informer Earns Four NNPA Awards," published in the July10-16 edition and written by Stacy M. Brown. Having won four at the same competition speaks volumes about the staff's commitment to educate and inform the public each week – that's the role of a newspaper.
I also want to thank the publisher, Denise Rolark Barnes, for all the hard work she has done to ensure the paper remains a strong presence in the community for all of these years, following the death of her father Dr. Calvin Rolark, who founded the newspaper back in the 1960s.
Her late father who was well-known in the Southeast community for his civic work and associations, must be very proud that his daughter had the wisdom and foresight to carry on his gallant legacy. Yes, she has lived up to her father's vision and beyond, and for that, deserves the applause of all Washingtonians. Especially at a time when so many newspapers are downsizing and cutting back due to costs – or are just throwing in the towel.
I love the Washington Informer and will continue to read it every week. It's a beautiful paper and a most valuable asset to the nation's capital.
Deloris Martin
Washington, D.C.