Mental Health Officials Slam J. Crew
Claim New Zero Size Promotes Unhealthy Habits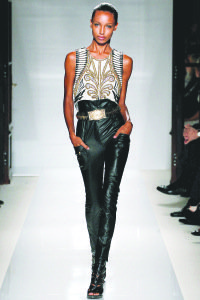 Lisa Beasley said she's made significant progress in recent months with her battle against the mental illness known as bulimia.
Like many other sufferers, Beasley also continues to wage war against what she said are unrealistic ideals about physical beauty.
"It's tough when the world is telling you that you should be small and you know that being too small is unhealthy," said Beasley, 22.
Even tougher, she said, are the new vanity sizes being offered by the preppy clothier J. Crew.
With three locations in the District, including along M Street in Georgetown, J. Crew officials created a buzz this month by introducing a new size, XXXS, or, Triple 000.
The size fits individuals with a 23-inch waist, but officials at the National Eating Disorders Association (NEDA) in New York consider the new offering to be unhealthy.
"We are disappointed that J. Crew is competing in the race to achieve a new low in marketing which promotes poor self-esteem and dangerous weight-loss behavior," said Lynn Grefe, president and CEO of NEDA, which supports individuals and families affected by eating disorders.
"Zero is not a size. The company's new 000 sizing will only triple the practice of unhealthy dieting in a society obsessed with skinny," Grefe said.
"Sadly, some of those vulnerable to eating disorders will compete to fit in this new size and others will be subjected to even worse self-image challenges, because they can never achieve such an unrealistic goal naturally."
Samantha James, a Northeast resident who also suffers from an eating disorder, said after the retailer's announcement she visited a manager at a J. Crew store on Wisconsin Avenue in Northwest to express her dissatisfaction with the new size.
"The manager wouldn't come out and speak to me after one of the customer service girls told him what I was there for," said James, 29. "I wanted to give him facts and a piece of my mind."
Officials at J. Crew said the new sizing accommodates a customer demand that's primarily coming from Asia.
"This has nothing to do with vanity sizing and accounts for the smallest percentage of our overall sizing assortment," company officials said in a news release on July 12.
Some marketing experts called J. Crew's new sizing a savvy business move. 
Retail expert Jennifer Black, CEO and president of Jennifer Black & Associates in Oregon, told ABC News that many stores tend to stock smaller sizes in low numbers.
She said she applauds more options for consumers and said J. Crew's reasoning to appeal to Asian customers isn't surprising.
"We feel like the retailers in general never make enough in small sizes. What stocks out first when an item is hot are sizes 0 to 4," said Black, who stands 5 feet, 5 inches tall. "I'm a 00 and I wonder what really small people do. They don't have a whole lot of options," she said.
Gigi Ganatra Duff, vice president of public relations and communications at HSN Inc. in Florida, said she applauds J. Crew's move, if it provides options for more body types.