Fade to Black: NCAA Demonstrates Biased Hiring Practices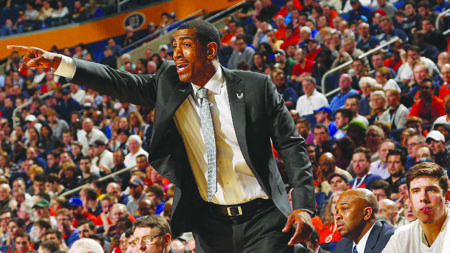 With the summer recruiting circuit in full swing, many star high school athletes can expect repeated knocks at their door from basketball coaches representing some of the top colleges in the country.
However, when a budding star and his family open that door, they're more likely to see white recruiters than African-Americans because few blacks and minorities occupy the top positions at major colleges and universities around the country.
"I believe that there are outstanding African-American coaches who are deserving of an opportunity to lead their own program," said Shawn Heilbron, the athletic director at Stony Brook University in New York.
Heilbron, 42, said the lack of black head coaches isn't because there's a dearth of quality candidates.
"It would be great to see more African-American assistant coaches earn leadership positions. When I worked with Craig Robinson at Oregon State, we talked quite a bit about the importance of having diversity not just within the coaching ranks but the administration as well," he said.
The hiring of coaches remains arguably the most visible aspect of an athletic director's job so they should be extremely involved in the process, Heilbron said.
But, with July 9 kicking off recruiting season in which coaches try to woo the best high school athletes, the lack of African-American head coaches at NCAA Division I basketball programs remain a hot-button topic around water coolers nationwide.
With the anniversaries of Freedom Summer and the Civil Rights Act and 51 years after the March on Washington for Jobs and Freedom, the issue has become so volatile that most college presidents and athletic directors remain reluctant to discuss why they're not hiring qualified black men to lead their programs.
Officials at high-profile schools such as Duke, St. John's, UCLA, Texas, Indiana, Alabama, Auburn, South Carolina, Maryland, Miami, Michigan and Ohio State refused to comment.
"We respectfully decline to comment on this," said Christopher Cameron, the associate athletic director at Boston College, where approximately three African-American head coaches have been hired in the school's 110-year history.
Kentucky spokesman Jay Blanton said the university's president, Eli Capilouto, directed him to offer a no comment. "We cannot accommodate your request," said Blanton, whose school has had just one black coach in 110 years.
Kelly Anderson, Louisville's assistant to the athletic director, said the school's preferred head coaching candidates are presented to the university's athletic association board of directors for approval, but she declined to address why blacks aren't being considered for many of the top jobs.
Since the basketball program's inception in 1944, Louisville has never had a black head coach.
"It's an ongoing and troubling problem when black coaches are not getting a fair shake when it comes to hiring practices," said Louis "Skip" Perkins, the athletic director at Howard University in Northwest.
The Howard Bison compete in Division I-AA and Perkins said he's directing his comments toward major programs at Division I schools.
"When you look at the job that Johnny Dawkins did with a depleted Stanford squad in the NCAA tournament and a Kevin Ollie winning the national championship after facing several challenges, it makes you wonder why race is even an issue," said Perkins, 41.