Fade to Black: NCAA Demonstrates Biased Hiring Practices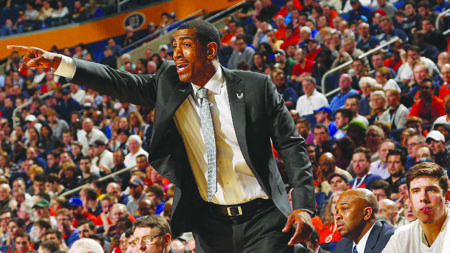 Additionally, Stanford has one of the most difficult admission standards in all of college athletics and, despite his success in going to the Sweet 16, the school has failed to reward Dawkins with a new contract.
The percentage of African-American head coaches has hit its lowest level in nearly 20 years. Included in Central Florida's Institute for Diversity and Ethics in Sport 2012, "Racial and Gender Report Card," the authors noted just 18.6 percent of blacks served as head coaches in Division I college basketball.
Whites comprise 81 percent of the 450 full-time NCAA staff members. Meanwhile, 90 percent of the presidents and 89 percent of athletic directors are white.
The numbers reveal that it's also difficult for former African-American coaches to make what should be a natural progression into athletic administration. For instance, Brian Ellerbe, who's coached more than 20 years at major Division I programs in the Big 10, ACC, the Big East, and the Atlantic 10, hasn't received any offers since his last head coaching job more than a decade ago.
Some college observers said with Ellerbe's coaching experience – seven as head coach – and his more than 10 years in private and public business, he'd be an ideal candidate for an administrative post.
"Colleges have the worst diversity hiring practices when you compare them to any of the professional sports leagues," said Richard Lapchick, director of the Institute for Diversity and Ethics in Sport.
The report card, which did not include historically black schools, has led to more scrutiny of major college basketball programs with ESPN, Yahoo Sports!, and even The New York Times featuring news stories about the lack of African-American coaches.
Myron Medcalf, who's written extensively for ESPN about the topic, reported that multiple administrators had passed on the opportunity to talk to him about the issue. He said NCAA officials wanted to see his questions and then they requested a pre-interview phone conversation.
An NCAA spokesperson declined to comment.

"After it appeared that we had made some progress when it came to hiring men's basketball coaches of color, it's apparent that progress has slowed or stopped all together, and that's incredibly disappointing," said Notre Dame women's associate head coach Carol Owens. "Not so long ago, it was the trendy thing to hire coaches of color, but I believe that those in the decision-making apparatus have turned their backs on those they were so eager to hire just a few years earlier," said Owens, 47.
Many have defended their hiring practices.
"The hiring process for athletic department employees is consistent with university guidelines," said Stephen Dombroski, the assistant athletic director at Seton Hall University in New Jersey. "The top candidates are identified and proceed through the interview process. Almost all times the athletic director is involved," Dombroski said.
Craig Littlepage, the athletic director at the University of Virginia, said the hiring institution must determine how it will generate a list of names that it would like to consider for a vacancy.  
"Since I coached college basketball for 17 years and served as the chair of the NCAA men's basketball committee, I've had the advantage in knowing the college basketball community well," said Littlepage, 62.