P.G. County Education Briefs: New Principal Search
7/16/2014, 3 p.m.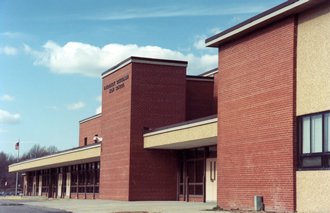 Students and parents from Frederick Douglass High School in Upper Marlboro gathered at the school gymnasium on July 10 to discuss who might succeed Principal Rudolph Saunders Jr., who has accepted a promotion within the school system.
Saunders, who's held the principal's post since 2006, announced his promotion on July 1 as the development coach for the county's high schools.
"Serving as the instructional leader for this community for the past eight years has truly been rewarding and has enriched my life in many ways," Saunders wrote in a letter announcing his decision to accept the promotion. "We have accomplished so much as a school community, holding to our commitment of creating a culture where students are college and career ready."
Dip in Test Scores
As state of Maryland education officials adopt the Common Core education standards and prepare for a new test assessment, local school officials are concerned about a drop in test scores among students.
The recently released 2014 Maryland School Assessment (MSA) scores for 3rd to 8th-graders showed that the percentage of elementary students scoring proficient or better in reading turned out to be 77.6 percent – or a drop of 1.8 percentage points from 2013.
In addition, the percentage of elementary students scoring proficient or better in math indicated a score of 65.9 percent – or a drop of 9.6 percentage points.
"I think we all anticipated the drop as we've been adjusting to the new Common Core standards," said Kevin Maxwell, schools CEO. "It's very comparable to the drops in test scores we've seen across the state."
In a statewide comparison, elementary reading and math scores dropped 2.1 and 8.1 points, respectively.
Graduation Rates
Data released recently from the Maryland State Department of Education (MSDE) shows that while graduation rates increased last year at the county's high schools, the school district stills lags behind state and national averages.
According to data released earlier this year from MSDE, the four-year graduation rate for county students rose by 1.25 percentage points.
However, a locally-published report indicates that the percentage of county students who graduated on time in 2013 – at 74.1 percent – was lower than the 76.2 percent rate in 2010.
Cellphone Towers on School Grounds
Prince George's County school officials and residents are divided on building cellphone towers on school property.
As a result, the county has started to reach out to parents and residents for their input regarding a plan that calls for towers on nine school sites. The sites could include Benjamin Tasker Middle School in Bowie, Charles Carroll Middle School in New Carrollton and Oxon Hill Middle School in Oxon Hill.
Meanwhile, parents are considering the health and safety risks the towers might pose to their children's well-being.