Youth Learn Rubrics of Music Production
FAME Camp Provides Tools to Make Dreams Come True
D. Kevin McNeir | 7/16/2014, 3 p.m.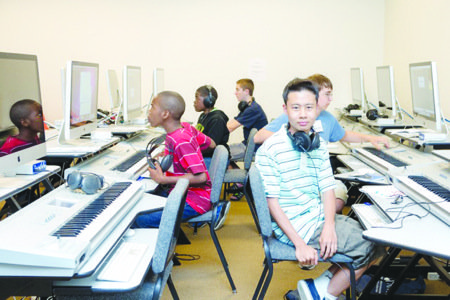 Summertime has traditionally allowed children to sleep in late, play all of their favorite video games and, if they're lucky, take a road trip to visit relatives that they only see once a year.
However, for a small group of determined youth, mostly from Prince George's County, this summer has shown them that it's never too early to begin working toward realizing their dreams.
"I'm encouraging young people to remain focused, to continue to pursue their goals to get into the music industry and even assisting in the classroom where they're learning the latest computer software essential to those who want to work in music production," said Asa DeShields, a Bowie State University sophomore who serves as an intern for the Foundation for the Advancement of Music & Education [FAME] Summer Music Program. "I was once a student in this program and because of the exposure I received, the skills I learned, I was hired this summer to help those who are coming behind me," said DeShields, 18, a 2013 graduate of Central High School in Capitol Heights, Maryland.
FAME, supported by the Community Foundation National Harbor Grant, the United Way of the National Capital Area and Prince George's County government, collaborates with its partners to provide grants for the majority of the students so they can attend the camp. For two weeks, students meet for five days of instruction. The program began on the campus of Bowie State University and has since shifted to the University of Maryland where it will end on July 18.
"It's an intensive program with about 35 hours of training in music production and most of our students go on to secure other positions including church audio-visual programs, music stores and even recording studios," said Toni Lewis, who founded FAME 10 years ago. "At the end of the week's session, students present the projects on which they've worked to their parents and families. The talents they possess and display are years ahead of their ages."
A seventh-grade student from Suitland, Maryland said participating in the program has helped him to have higher expectations for his life.
"I'd like to be an audio engineer one day and have been amazed by the kinds of things you can do with computers as it relates to instruments and sounds," said Emmanuel Barnes, 12. "But even before attending camp, I've had some great role models including my mother, who's a singer and my music teacher at school."
Daniel Zeng, an 11th grader from Greenbelt, Maryland, has been working on making beats using synthesizers to produce loops and vocals while editing the sound on a new software program.
"I've been playing piano since I was two and have been called a prodigy but in truth, I think I'd like to either be a music producer or a scientist," said Daniel, 15. "There's so much more you can do today when you know how to manipulate the latest software. Being here has given me skills that I really needed."
Many of the students have the talent but not the financial support.