Owens Elected Chair of P.G. County DCC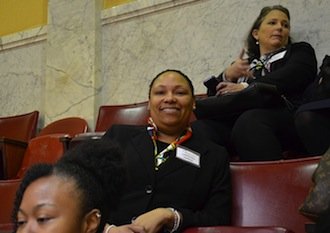 The Prince George's County Democratic Central Committee has elected District 27's LaRhonda Owens as its new chair.
Owens, 42, a compliance supervisor for the Prince George's County Public Schools' Department of Special Education, succeeds Terry L. Speigner from District 24.
Owens, who has a track record of community activism and strong emphasis on education funding, will focus on transit projects and improvements for pedestrians.
The Democratic Central Committee, which is comprised of 24 members representing the eight legislative districts in the county, also elected Cheryl Landis as 1st vice chair; Nicole Williams, vice chair; Veronica Davila, treasurer; Courtney Glass, assistant treasurer; Carlo Sanchez, secretary; and Belinda Queen-Howard, assistant secretary.
Owens has also appointed Derrick Coley, 3rd vice chair, and Salome Peters, parliamentarian, to serve on the organization's executive board.