COMMENTARY: No Place Like Home for LeBron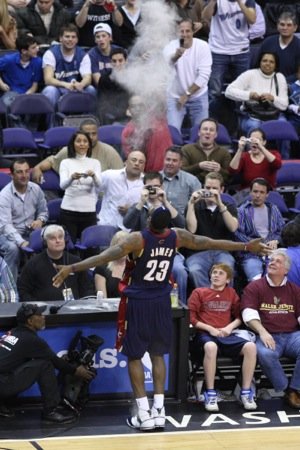 A college professor once told me that no myth is a total fabrication. For the city of Cleveland, its professional sports teams' longtime woes have saddled the city with a "loser" label — the "Mistake by the Lake," if you will. It's a label I believe the city has earned over the years, quite honestly.
Don't get me wrong — I'm not bashing Cleveland. I'm simply pointing out that, with all things being equal, it'd be awfully difficult to sell Cleveland to the most popular athlete in the world.
But it happened. Against all odds, somehow Cleveland, a cursed town tortured for years by the likes of Jordan and Elway, enticed LeBron James to return to the franchise that drafted him 11 years ago — a development rumored for a while but no less shocking once it was announced. Granted, the Akron native still had strong ties to the state, but he had rooted himself in Miami, too, becoming even more of an icon with the Heat than he had been with the Cavs. The Heat could promise him more money than any other team. So why would he choose Cleveland?
To reiterate, I have nothing against Cleveland. It's actually a good sports town. But it's not a large media market. Winters are cold and long. It hasn't seen a championship team of any kind in decades. The one thing that it can hang its hat on is the Rock and Roll Hall of Fame and Museum.
Plus, it was the Cavs' dim title prospects that caused James to bolt for Miami in 2010 in the first place, and their championship chances aren't any better today.
Not to mention, that 2010 departure couldn't have been more acrimonious — his jersey was burned in the street, he was labeled a quitter, coward, Benedict Arnold. He was mercilessly booed for years by Cleveland fans when Miami came to town. And, of course, there was the Dan Gilbert letter.
In short, there were plenty of great reasons for LeBron to stay in Miami, and plenty of better ones to avoid Cleveland.
So, again, why go back home? There's one reason, and a pretty simple one: It's home.
James grew up in nearby Akron, played basketball and football at St. Vincent-St. Mary High School and was regarded as the number one high school basketball player in the nation. Skipping college, he entered the 2003 NBA draft and was selected first overall by Cleveland, where he played the first seven years of his career. Essentially, Ohio had been all he'd ever known his whole life.
It's debatable whether he ever truly wanted to leave. It was only when he couldn't see a path to an NBA title with Cleveland that he infamously decided to take his talents to South Beach, where he joined Dwyane Wade and Chris Bosh to form the vaunted Big Three.
For all the guff he took, it's hard to knock The Decision, especially in hindsight. In all four of his years in Miami, he went to the NBA finals, winning two titles along the way. Cleveland, despite owner Dan Gilbert's rant about winning a ring before the departed King, hasn't made the playoffs since James left.