Frederick Tapped as Howard University's 17th President
Dorothy Rowley | 7/22/2014, noon | Updated on 7/23/2014, 3 p.m.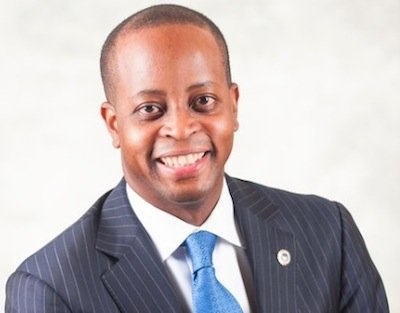 A scholar, surgeon and researcher who enrolled at Howard University as a 16-year-old from Trinidad and Tobago, has been named as the school's 17th president.
Wayne A.I. Frederick, 43, who served as Howard's interim president following the abrupt retirement in October 2013 of Sidney Ribeau, received the unanimous recommendation of the university's Presidential Search Committee on Monday.
"Selecting a university president is one of the most critical decisions a Board of Trustees is entrusted to make, and Dr. Frederick's selection is the result of an extraordinarily thorough and thoughtful process," said Vernon Jordan Jr., who chaired the search committee. "After conducting an exhaustive national search, we identified a finalist pool, comprised of both internal and external candidates. From this stellar group, Dr. Frederick stood out as supremely qualified, remarkably motivated and uniquely suited to lead Howard University."
The search committee, which consisted of student, alumni, staff, and faculty senate representation, also included the attorney general of California and mayor of Atlanta, Georgia.
"We conducted an inclusive national search and are excited to name Dr. Frederick as the next president of Howard University," said Stacey Mobley, Board chair. "He brings insight, energy, and the requisite vision to advance the [university] through collaboration and engagement."
In his new capacity at the historic university in Northwest, Frederick who earned a dual bachelor's of science and medical degree at age 22 before enrolling in a surgical residency at Howard University Hospital, will continue oversight of the university's 13 schools and colleges and health sciences initiative.
He also assumes the helm as the university attempts to recover from financial struggles, a dip in enrollment, a downgrade of its credit score and a drop in ranking, according to U.S. News and World Report.
"I am deeply honored to be selected by the Board of Trustees to lead this great university," said Frederick. "Howard University has been an unparalleled catalyst since its founding, opening doors and expanding opportunity for untold individuals while driving research, innovation, service, and excellence. On the cusp of our 150th anniversary, I could not be more humbled to accept the mantle of leadership and embrace the sacred trust of our motto, 'Truth and Service.'"