Bed Sharing Linked to SIDS
Researchers Seek to Reduce Infant Mortality Rates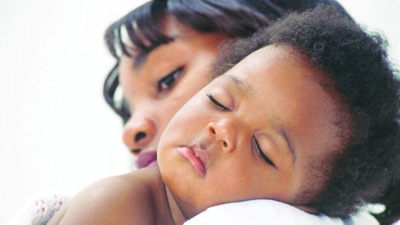 Sudden infant death syndrome claims nearly 2,300 lives each year, including approximately two out of 1,000 African-American babies.
Now, new research by officials at the American Academy of Pediatrics (AAP) in Northwest has revealed that bed-sharing remains an important factor in sudden infant death syndrome (SIDS), particularly among younger infants.
"This study is the first to show that the risks during sleep may be different for infants of different ages," said Dr. Rachel Moon, the associate chief of Children's National Medical Center's division of general pediatrics and community health, located in Northwest.
"Parents of infants under four months of age should be aware that bed-sharing is a huge risk factor," said Moon, the lead author of the new report.
Researchers discovered that younger babies are more likely to die when they're sharing beds with parents or other adults, while older babies face a higher risk of sudden death when there are objects in the crib with them, such as toys and pillows.
SIDS, or crib death, occurs when infants die in their sleep due to unexplained reasons. Researchers have repeatedly attempted to identify risk factors and causes of SIDS in an effort to provide parents and caretakers with the proper tools to help prevent fatalities.
With the latest study, released on July 14, researchers examined 8,207 unexplained cases of infant deaths that took place between 2004 and 2012.
Approximately 70 percent of the deaths occurred in infants that were younger than three-months-old. For this young age group, the researchers found that the majority of them, 75 percent, died due to bed-sharing with parents or other adults. Also, the practice of bed-sharing accounted for around 60 percent of unexplained deaths for infants age four-months and older.
Authors said young babies don't have the ability to move their heads or bodies to avoid being suffocated when another person shifts in the same bed.
The older babies were also somewhat more likely to have rolled onto their backs from their side or front. Medical officials advise parents to position babies on their backs and not sleep with them on beds or couches.
"We need to re-emphasize that the sleep environment needs to be clear even as the infant gets older, particularly as the infant becomes more mobile," Moon said.
Health officials said there are 7.4 deaths per 1,000 live births in the District, a stark improvement over seven years ago when the statistics proved to be 13.1 deaths per 1,000 live births.
An AAP study noted that putting infants to sleep on their backs helps to prevent accidental deaths. They said as the number of babies sleeping on their backs has increased, SIDS cases have decreased.
A recent, "Back to Sleep," public health campaign launched by the Centers for Disease Control and Prevention in Atlanta proved successful as back-sleeping rates soared, the SIDS rate dropped.
CDC officials reported that about 25 percent of parents in the United States said they don't put their babies on their backs to sleep, and among African Americans, it's about half. In fact, African-American babies die of SIDS at a rate twice that of whites, officials said.