Civil War Museum Honors All-Black Unit
William J. Ford | 7/23/2014, 3 p.m.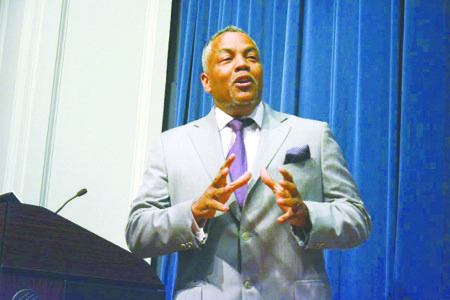 Mark "Ranger" Jones can vividly recall skydiving with a former president, taking a risk to start his own business and working as a military adviser on a major film.
Jones talked about his experiences during a ceremony at the African American Civil War Museum in Northwest. The event commemorated the 151st anniversary of the battle at Fort Wagner highlighted in the 1989 movie "Glory."
"I didn't know a thing about the 54th, but I learned once I got to become a military adviser in Glory," said Jones, 50, of Burke, Virginia. "I got really educated on the 54th. I got educated on life."
The event held on July 18 paid homage to how an all-black volunteer unit known as the 54th Massachusetts Infantry regiment impacted the Civil War. More specifically, those soldiers became the first from the Union to attack a heavily guarded fort against Confederate forces on Morris Island, South Carolina.
The soldiers fought all day and night on July 18, 1863, led by Col. Robert Shaw, a white man with a Harvard education who eventually died and then later buried with his soldiers. According to the website, history.com, 281 of the 600 Black soldiers got killed, wounded, or captured.
Jones, a former Army Ranger, said the film resonated with him when he taught actors to march in sync and carry 25-pound muskets.
"I was like, 'this is really how it was. This is what my ancestors were doing,'" he said. "I really got a chance to learn the other side of life."
The acclaimed film received various awards such as three Oscars for "Best Actor in a Supporting Role" to Denzel Washington; "Best Cinematography" to Freddie Francis; and "Best Sound" to four sound engineers that included District native and American University professor Russell Williams II.
Williams, who didn't attend the event, said the film shined a spotlight on the significant role of blacks in American history.
"Glory was the first movie to show how African Americans played a part in the Civil War," said Williams, 61, who lives in Northwest. "I hope people look at the movie from the correct perspective. Freedom isn't free. So many men and women sacrificed their lives and handed down the baton from generation to generation so we, especially our young people, can have a better life today."
Before the program got underway, the museum showed the movie, "Glory," for those who attended the event. Then about 15 youth from CityDance, a nonprofit based in Northwest, performed three dance routines. Adults with CityDance and an all-female dance group called Ebony Day also participated.
Jones, who didn't get to see the dance performances because he arrived late, said the actors in "Glory" appreciated what the soldiers from the 54th Infantry did for America.
"I think that Glory really helped and catapulted them [to a higher] level," he said. "It was an appreciation for what others did for us."
Jones mentioned how ice sculpting on the weekends in Savannah, Georgia, landed him the job of military adviser while three of the movie's actors – Washington, actors Morgan Freeman and Matthew Broderick – perfected the film.