D.C. Celebrates the Life of Robert Moore, 'Mr. Columbia Heights'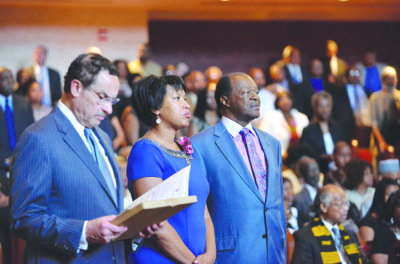 Hundreds of people, including the mayor of the District and two D.C. Council members, commemorated the life and accomplishments of the late Robert Moore, known affectionately to many as "Mr. Columbia Heights" on Saturday, July 19 at Shiloh Baptist Church in Northwest during a three-hour funeral. Moore died on July 7 of cancer. He was 74.
Moore played a role in transforming the Columbia Heights neighborhood in Northwest from a commercial wasteland to its present state as a thriving economic corridor. He served as the president and chief executive officer of the Development Corporation of Columbia Heights (DCCH) in Northwest for 26 years and D.C. Mayor Vincent Gray (D) said that Moore did his job well.
"Bob Moore deserves every tribute that he [is due], "said Gray. "He was a great Washingtonian and he turned around Columbia Heights, which when he became president [of DCCH] was still suffering the scars of the 1968 riots. Bob was a visionary and he made Columbia Heights a symbol of what can be done in the rest of this city."
Moore has been credited for the building of the bustling DC USA shopping mall and re-building the Tivoli Theater. Those projects have stimulated growth along the 14th Street corridor with new businesses and high-quality housing.
Moore, a native of Camden, New Jersey, graduated from Johnson C. Smith University in Charlotte, North Carolina in 1961 and came to Washington as the director of the D.C. Department of Housing & Community Development under Mayor Marion Barry in 1979 from Houston. Barry, who won his election to his first term as mayor of Washington in 1978, had heard about Moore's work in Texas's largest city as the leader of its housing department.
"I wanted him to come work for me in Washington," said Barry, 78.  "When we met, what was supposed to be an interview for the director's job turned out to be a three-hour discussion about housing."
Barry said that he offered Moore the directorship at the end of the meeting. Barry, who serves on the D.C. Council representing Ward 8 in Southeast, complimented Moore's negotiating skills in the building of the then-MCI Center in Northwest in 1996.
The Rev. Jim Dickerson, the pastor of the New Community Church in Northwest, and Moore's son, Anthony, delivered moving tributes that had many in the church wiping their eyes with handkerchiefs. Other speakers who praised Moore included Shelore Williams, the chairman of the board of DCCH, former D.C. City Administrator Carol Thompson Cole and Willa Hall Smith, speaking on behalf of former Greater Washington Urban League President Maudine Cooper.
The Rev. H. Beecher Hicks delivered the eulogy and three vocalists, Sania Anderson, Dawn Anthony and Rhoda Sutton, had those in attendance shouting and standing while they belted out gospel songs. The Rev. Shirley Cooper, Moore's longtime assistant and the acting president of DCCH, presided over the funeral.
Andre Byers worked for Moore at DCCH as the director of business development from 2007-2011. He has since established himself as an expert on economic development and works as a director with the Office of the Deputy Mayor for Planning and Economic Development.
Byers played a key role in the development of the shopping mall in Columbia Heights, DC USA, and particularly its minority business component.
"Having been mentored by Mr. Moore, I feel a great responsibility to continue his legacy [working in economic development and in the community]," said Byers, 36. "He is the last in a dying breed of men who selflessly put others first and I don't want to let him down."
Doris Faulkner, a longtime DCCH board member, remembers how Moore facilitated trips to Harlem and Ghana to learn about how others worked on economic development projects. She got to know Moore through his efforts to make the Giant supermarket in Columbia Heights hire neighborhood residents.
"Bob Moore was phenomenal," said Faulkner. "He spoke for the underprivileged and was genuine. If it wasn't for Bob Moore, there would not be many blacks or Latinos in Columbia Heights and that is why we must carry his baton."