D.C. Political Roundup: Three Blacks Vie for Attorney General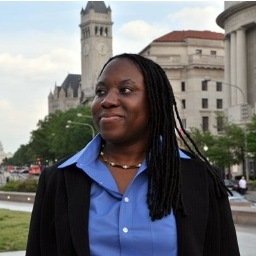 The voters of the District will go to the polls on Nov. 4, to elect a mayor, members of the D.C. Council, D.C. State Board of Education members and their advisory neighborhood commissioners. However, there's a new category on the ballot, District attorney general, and voters may have three African-Americans to choose from for the office.
Lateefah Williams, an attorney and civic activist, wants to use her experience in the legislative and public policy arenas to become an effective attorney general.
"I have spent my career as a public advocate," said Williams, 37. "For me, working in the public interest has not been something to do on the side while I enrich corporations. Rather, I made a conscious choice to dedicate my career to public service and I believe that as a community-oriented public servant, I am best suited to represent all Washingtonians and protect our most vulnerable citizens."
Williams has worked for the Prince George's County state Senate delegation, the Amalgamated Transit Union Local 289 in Forestville, Maryland and as a policy analyst for OMB Watch in Northwest.
Edward "Smitty" Smith also hopes to work on behalf of District residents. Smith, who has served in the Obama administration in senior-level positions at the U.S. Department of Commerce and the Federal Communications Commission, said that if elected as attorney general, he will reform the city's juvenile justice system, focus on consumer protection and fight for the rights of residents.
"I am taking the skills that I developed and experiences that I gained through years of serving communities and dedicating them to you: to serve as your lawyer and to protect your interests because as attorney general, you will be my clients," said Smith, 34.
Another contender, Karl Racine works at Venable LLP in Northwest and focuses his practice on corporate defense and white collar and commercial litigation. He has worked at the Public Defender Service of the District of Columbia in Northwest and as an associate general counsel in the Clinton White House.
Racine has been named by The National Law Journal as one of "The Most Influential Minority Leaders in America." Many political observers consider Racine to be the "establishment candidate" so much so that Mark Tuohey, a noted white collar criminal defense attorney and the force behind bringing Major League Baseball back to the District, dropped out of the attorney general race and endorsed Racine.
Batchelor Files for 8C04 Commissioner Position
Markus Batchelor has become a fixture in the politics of Ward 8 and the District of Columbia Young Democrats as a volunteer, organizational officer, intern for D.C. Council members and a staffer for a recent at-large campaign for the council. All of those experiences will be helpful as he embarks upon a new journey as a candidate for the 8C04 advisory neighborhood commissioner.
"With the new development on the St. Elizabeths campus, near the Congress Heights Metro and in Barry Farm, our community is seeing the most drastic change its seen in generations," Batchelor, 21, said in his message to voters. "We need representatives on our advisory neighborhood commission who are dedicated to our residents and fighting every day to make sure we are part of the conversation and have a seat at the table."
Batchelor will attempt to take the position from incumbent Derrick Colbert in the Nov. 4 general election.
Batchelor, who served as the first vice president of the Ward 8 Democrats, took over as the interim president of the group, when the Rev. Joyce Scott resigned during the summer of 2013. He impressed city leaders with his ability to keep the organization moving forward until Natalie Williams won election as president in September of that year.
Single-member district 8C04 consists largely of residences in the Congress Heights and Washington Highlands areas in Southeast. Batchelor said that he has lived in the District all his life and will continue to do so after he finishes at George Washington University in Northwest.
However, Batchelor said he wants to serve his neighbors starting in January 2015.
"I pledge to be a community-oriented commissioner; one that's accessible, dependable and present," he said. "I'm ready to go to every doorstep and on every block of our district to make sure you're getting what you deserve and that I'm representing you the best I can."