P.G. County Seeks Foreign Investors
William J. Ford | 7/23/2014, 3 p.m.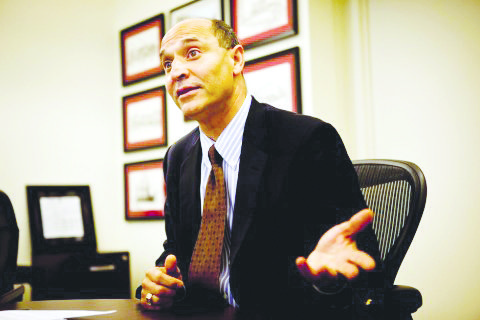 Prince George's County wants foreign investors from China to help increase economic development in low-income neighborhoods through a nationwide program previously used in the District.
County officials pitched a three-city business tour to China in September before more than a dozen business leaders during an investment forum July 15 at the Largo Government Center in Largo.
"We live in a global market. China is [one of the top global markets] in the world," said Gwen McCall, president and chief executive officer for the county's Economic and Development Corp. "We want to find other ways to invest in Prince George's County. Prince George's County is the place to be."
The county will use a program called EB-5 to entice Chinese financiers to contribute toward projects in underdeveloped neighborhoods. In return, investors and their immediate families can qualify for green cards lasting two years and later seek long-term residency.
The U.S. Citizenship and Immigration Services, which administers the nearly 25-year-old program, states on its website a private investor must provide at least $500,000 and generate 10 jobs in a two-year period in an area with a high unemployment rate.
Victor Hoskins, the county's deputy chief administrative officer of economic development and public infrastructure, said a map will be completed in a few weeks highlighting areas that may qualify for EB-5 financing.
"What [investors] have [in China] is unbelievable optimism. I want to bring that same optimism here," said Hoskins, who began working for the county last month after leaving as the District's deputy mayor for planning and economic development. "This is a great opportunity … There [isn't any] way you can't do business in Prince George's County."
So far, McCall said 15 companies registered for the trip being led by County Executive Rushern Baker III. Nine more slots are available, she said.
Antony Vaz raised his hand when asked about his interest in visiting China. Vaz, a principal at Insight Engineering Inc. of Largo, said he's been to the country before but wanted to learn about EB-5.
"I just wanted to see how it could benefit my business," he said.
Abhijat Thakar, president and chief executive officer with Weatherman Consulting of Frederick, Maryland, said the program wouldn't benefit his operation.
"I am a banking consultant. The program doesn't fit me, but it was a good presentation," he said.
The District used EB-5 more than a decade ago in the Shaw neighborhood in Northwest to renovate the former O Street Market where a teenager got shot and killed 20 years ago.
Today, it's a $330 million development called the City Market at O with a Starbucks and a Giant grocery store that's the largest in the city. Future amenities include a 182-room hotel, 86,000 square feet of retail space and a 645-unit apartment complex.
David Morris, a partner at The Visa Law Group in Northwest who helped secure financing for the City Market project, said 200 Chinese investors contributed $100 million.
Morris, 47, summarized one of EB-5's main goals: "This is all about job investment."
Richard Lake, a partner with Roadside Development in Northwest and one of the City Market at O developers, said the project produced 2,400 jobs with 237 of those being Shaw residents. His company also offered job-training classes for those who didn't hired.

"The goal here was to create a viable project," he said. "Without EB-5 … this would not have come to fruition."
One criticism not mentioned at the forum deals with how EB-5 allows wealthy foreign investors to obtain green cards faster than immigrants with lesser means. It became a campaign topic earlier this month in South Dakota when three of the four U.S. Senate candidates slammed the program because of a perception people can buy their citizenship.
McCall acknowledged foreigners with capital can get American residency faster, but the pros outweigh the cons.
"What [EB-5] does is target [underserved] areas that will create economic opportunity for these areas … where development doesn't happen," she said. "[Investors] are also creating jobs and economic opportunities for us. This is definitely a win-win."