Phi Beta Sigma Honors Founders at 100th Anniversary
Fraternity Takes over D.C. for Centennial Celebration
D. Kevin McNeir | 7/23/2014, 3 p.m.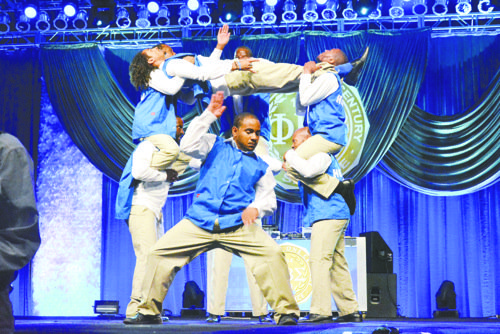 If you've seen thousands of men and women wearing blue and white around town these past few days and questioned your sanity, your eyes weren't playing tricks on you.
Members of the black fraternity Phi Beta Sigma and its sister organization, Zeta Phi Beta Sorority, Inc., took over D.C. from July 16 through July 20 to mark the 100th anniversary of the men's fraternal organization.
"We came to Washington eager to paint the town blue and white, to honor our founders and to announce our participation in a new program that will address issues impacting men of color that was inspired by President Obama's 'My Brother's Keeper Initiative,'" said Jonathan Mason, international president of Phi Beta Sigma during the opening ceremony last Wednesday at the Marriott Wardman Park in Northwest.
Mason said the organization has committed itself to joining President Obama's call to action for foundations, businesses, elected officials and non-profit organizations to increase the kinds of opportunities needed in order to unlock the full potential of boys and young men of color.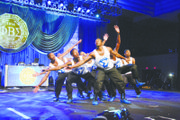 "We have initiated over 150,000 members into the brotherhood and expanded to over 650 chapters worldwide since our founding on January 9, 1914 at Howard University by three noble men, A. Langston Taylor, Leonard F. Morse and Charles I. Brown," said Mason, a Norfolk State University graduate who became the fraternity's 34th international president last year. "No matter what position we hold in the frat we are all simply spokes in the wheel."
With the theme "the best is yet to come," activities for the weeklong celebration included: a centennial collegiate Sigma summit; a Sigma-Zeta reaffirmation ceremony; a business networking breakfast; a unity rally; a memorial monument unveiling; cookouts; parties; and the highly anticipated step show competition.
The brothers from Florida A&M University's Alpha Eta Chapter beat out five other competitors to take home the step show first-place trophy and $5,000 in prize money.
One Sigma from Waterford, Connecticut commented on the week's activities.
"I thought the step show was amazing and well orchestrated," said Larry DeLong, "As a brother who pledged in 1979, I felt a little overwhelmed at how the stepping competition has progressed. Seeing the newly-renovated fraternity headquarters was inspiring. But the best part was the connection made between famous Sigma brothers to those of us who have succeeded in our own individual ways," said DeLong, 54.
The fraternity's second-in-command, Michael Cristal, said having his 18-year-old son who "crossed the burning sands" last March and attended the centennial with him, made the event even more memorable.
"Mentoring young men has been one of our chief goals since the fraternity's founding but now we have real measurable goals to guide us including providing one million dollars in college scholarships, reaching out to 100 schools across the U.S. and sponsoring business and career expos. And we've taken a strong stance against hazing including a model pledge program that other Greek organizations have adopted," said Cristal, international first vice-president.
Cristal added that more than 3,500 Sigmas registered for the week with another 6,000, a combination of Zetas and non-registered fraternity members, attending one or more of the activities.