THE RELIGION CORNER: Nine Principles for Dynamic Living (Part 4)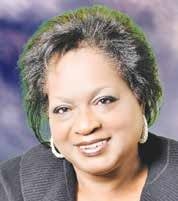 Les Brown, an author and internationally-known motivational speaker, says there are 9 principles that define true greatness. I would like to share principle No. 4 with you this week: Self-awareness, self-commitment and self-approval – all essential to attaining self-fulfillment.
Simply stated, you know who you are, you like who you are and you will do everything in your power to improve yourself, which results in self-fulfillment. Let's take a look at each part of this equation, define it and analyze it.
Self-awareness means you have an awareness of your likes and dislikes, your distinct personality, your very own individuality. You know who you are; you know that you're the only person with your specific set of fingerprints in the world. No one else came to this earth to fulfill the mission that the Lord sent you here to do. No one else knows, so don't allow others to dictate to you how to live your life.
Just like the lyrics to the song, "I Know Who I Am," by Israel Houghton, that reads "… I know who I am; I know who God says I am; What He says I am; Where He says I am at; I know who I am."
Self-commitment is the next part that we will define, which means the act of committing, pledging, or engaging oneself – in essence, being true to you. Remember the scripture that talks about the greatest Commandment, which begins by reminding us to "Love the Lord your God with all your heart and with all your soul and with all your mind and with all your strength." The second is this: "Love your neighbor as yourself." Mark 12:-30-31 NIV.
How can you love your neighbor as yourself, when you're not committed to you, and aren't keeping the pledges you made to yourself.
Do you tell yourself you're not going to smoke again, because you know it's bad for your health, yet you do it anyway? Do you tell yourself you will exercise regularly and lay off all of that unhealthy, fattening food that you've been eating, yet you find yourself being too lazy to exercise, and you're still enjoying macaroni and cheese and fried chicken! If you answered yes, you're not being faithful to yourself and you're defeating your purpose.
Last but not least, there's self-approval which means that you hold a favorable opinion of yourself. In fact, you love yourself.
Will the real you, please stand up! Once you've gotten all the knowledge of the three parts of yourself together, then you will definitely be fulfilled. You will do what pleases the Lord and what feels good and right to you, whether you're paid for doing it or not – whether it's mandatory or not. It's your choice to be pitiful or powerful.
I'm reminded of my own life, and how this principle continues to work for me. Those of you who read my column are familiar with my health agenda. In continuing with my goal to teach others, I'm coordinating my sorority's health fair at a national convention in Dallas, Texas.
Sticking with the promises made to myself, I'm delighted to keep the commitment I've made and to share with others what my family didn't know about complications resulting from diabetes. That's self-fulfillment!
Les Brown always says if they knew better they would do better. Become introspective; learn to love and value yourself; most of all keep the promises you make to yourself.
There's a reason why you should make radical changes in the way you think. Stop making the same mistakes over and over again – nothing is ever accomplished. Practice this simple principle, and true greatness will soon shine through.
Lyndia Grant is a radio talk show host on 1340, WYCB AM, Fridays at 6 p.m. Visit her website at www.lyndiagrant.com, call her at 202-518-3192; or email lyndiagrant@lyndiagrant.com.