Sentencing Guidelines Drop for Drug Offenses
46,000 Could Be Eligible for Early Release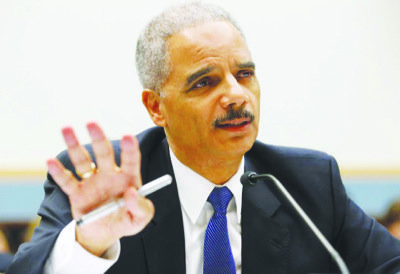 Reducing federal prison terms for drug traffickers currently incarcerated has excited a population that had all but given up hope.
It has also reinvigorated inmates, their parents and attorneys who have fought to get lawmakers to revisit how society punishes those with minor drug offenses.
"The United States has undergone an unprecedented social experiment with its excessive use of incarceration," said Jon Korin, a local resident whose son received a 100-month federal prison sentence for a nonviolent drug offense.
"Several states and other countries have demonstrated that there are far more cost effective ways to protect the public, punish the guilty, deter others and rehabilitate offenders," Korin said just prior to the U.S. Sentencing Commission's vote on Friday, July 18, to reduce sentences for those incarcerated because of minor drug offenses.
The decision comes as thousands of federal inmates, including Doug Nielsen, a District resident locked up several thousand miles away from home in Arizona, wrote heartfelt letters to commissioners asking that they vote to reduce jail terms for minor drug offenses.
"As a federal inmate, I humbly ask that you make the new drug amendment retroactive to all federal inmates without limitations," said Nielsen, who didn't specify how long he's been incarcerated. "Moreover, as it has now been acknowledged, extra time was added to a sentence that was already much too harsh. Justice and fairness fully support my request."
Attorney Sylvia Royce, whose law offices are located in Northwest, said she has extensive professional experience in the federal criminal justice system, first as a prosecutor and now as a defense attorney.
She said she believes the nation's communities have not been well-served by lengthy sentences for federal drug crimes, and that lowering all drug guidelines would represent an important step.
"There is no reason to deprive those who are still serving these unduly long sentences of an earlier release than is now scheduled," Royce said.
"All the reasons that caused the commission to change the drug quantities associated with the guidelines are equally applicable to those who are now prisoners. Quantity of drug has not been and is not now a reliable proxy for culpability," she said.
As a result of the commission's vote, more than 46,000 drug offenders will be eligible for early release, unless Congress makes a move to stop the plan by November 1.
On average, sentences could be reduced by more than two years.
"The department looks forward to implementing this plan to reduce sentences for certain incarcerated individuals," U.S. Attorney General Eric Holder said in a statement released on July 18.
"We have been in ongoing discussions with the commission during its deliberations on this issue, and conveyed the department's support for this balanced approach. In the interest of fairness, it makes sense to apply changes to the sentencing guidelines retroactively, and the idea of a one-year implementation delay will adequately address public safety concerns by ensuring that judges have adequate time to consider whether an eligible individual is an appropriate candidate for a reduced sentence," said Holder, who has consistently expressed a desire for such a change in guidelines.