D.C. to Hold Free Festival for Humanities, Arts, Technology
7/25/2014, 10:25 a.m.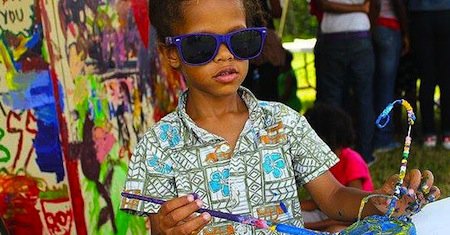 The Humanities, Arts & Technology Festival is the first of its kind, featuring a main performance area and five themed tents focused on music, visual arts and graphic design, food, technology and children's activities. Each area will include interactive workshops, readings, artist talks and panel discussions, robotics, art creation, web site demonstrations, music performances and chef demos.
Made possible through a grant awarded by the District's Office of the Deputy Mayor for Planning and Economic Development, the festival series is presented by St. Elizabeths East, The Humanities Council of Washington, DC, THEARC, DMPED and Gateway DC.
The festival will take place Aug. 2-3 from 1 p.m. to 6 p.m. at the Gateway Pavilion at St. Elizabeths East Campus, 2700 Martin Luther King Avenue SE.
SCHEDULE OF EVENTS:
Saturday Main Stage Performances: 1 p.m. -Batala Drummers and Dancers, 1:45- Cecily Bumbray Band, 2:30- Aaron Abernathy, 3:30 Wes Felton, 4- Reesa Renee, 5- Father's Children
Sunday Main Stage Performances: 1 p.m. - Egheosa Band, 1:45- Tre Thomas, 2:30- Robert Person, 3:15-Kim Jordan, 4- Clifton Ross III, 4:30- Mike McCoy & Voices United, 5- Y'anna Crawley 
1-5 p.m. National Hand Dance Association lessons and performances under the Gateway Pavilion
The full schedule of events is located at http://www.hatfestdc.com/#!festival-dates/c21kz
"Humanities, Arts & Technology at Work," is the August HATFestDC theme. The festival will demonstrate how to thrive in creative fields and inspire attendees to engage in H.A.T. disciplines. This is the first festival in a two-part series scheduled for August 2-3 and October 4-5.
Learn more at hatfestdc.com. For media inquiries, contact Natasha Brown at 202-705-4604 or nbrown@wdchumanities.org. Email hatfestdc@gmail.com for festival questions. Follow @HATFestDC on Twitter for updates.
FULL SCHEDULE
Saturday Programming
MUSIC
1 – DJ MIM Performance and Career Discussion
2:30- Producer's Showcase with Pkay of The Krank Factory, Kid Cannibal, JUDAH and Casito
3:45 – College Bound Entertainment Music, Spoken Word Live Performance
TECHNOLOGY in R.I.S.E. Center
1-5 – DC Digital Museum Film Festival
1- Byteback Skills Training
2- DC By The Book Demonstration
3- Beekeper Group Mobile App Discussion
4-Byteback Skills Training [web site, mobile apps, etc.]
CHILDREN
1 – Big Chair Chess Club
2 – Child Author Jayana L. Wood Reading of Opening My Imagination
2:30 – Painting with Love by Lizee
3 – The Steam Teacher – Science, Tech and Arts Workshop
4:15- Hip-Hop Artist Chi Chi Monet Performance
FOOD
1-5 – Union Kitchen curated food programming
4 – Restaurant Entrepreneurship with Andy and Marjan Shallal owners of Busboys and  Poets and Eatonville
VISUAL ARTS
1-5 – "Art Meets Tech: Community Dropcloth" presented by Tendani Studio, Entaty Music, and DESIGN MIND
Sunday Programming
1-5 p.m. Performances and Lessons from the National Hand Dance Association
MUSIC curated by Will Rap 4 Food, Inc.
1 – Liberated Muse musical tribute to Maya Angelou and Ruby Dee
2 – Music Panel: "Music's Social Influence in Media" with DJ Heat, Angela Byrd, PatIsDope, Marcus K. Dowling, Briana Younger, Matt Talley
-moderated by Will Rap 4 Food, Inc. Founder Pro'Verb
3:15 – Performing for Cause – Hippie Life Krew
3:30 – Performing for Cause – New Retro Funk Band
4 – Special presentation from the Soul of the City youth leadership program of their rendition of Marvin Gaye's "What's Going On"
TECHNOLOGY in R.I.S.E. Center
1-5 – DC First Youth Robotics Teams
4 – Matthews Memorial Baptist Church Digital Archives
CHILDREN
1 – Big Chair Chess Club
2:15 – MECKids.com Fitness & Technology Demonstration
3:30 – Nu Globe Entertainment Musical Education and Games
FOOD
2 – "Creating a Personal Chef Experience" with Kitchen Cray
VISUAL ARTS
1-5 – "Art Meets Tech: Media Multiplication" presented by Tendani Studio, Entaty Music, and DESIGN MIND
*Schedule subject to change.