SE Residents Push Back at Developers' Demolition Plans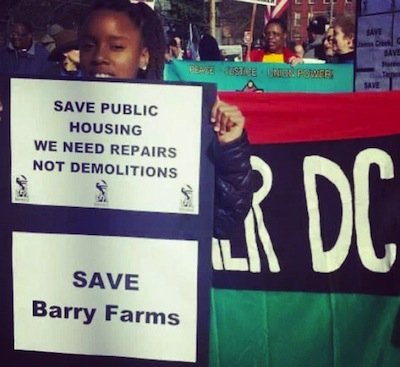 Residents of the Barry Farm public housing units and Park Chester apartments in Southeast D.C. will converge on the zoning commission's Northwest headquarters Monday in a continued show of force against plans to demolish their homes.
The protest will be held at 6:30 p.m. in conjunction with a hearing at the commission headquarters to determine if well-heeled developers will be allowed to tear down the buildings — which house about 2,000 longtime, low-income black residents — and replace them with 1,700 upscale housing units with convenient access to the nearby Anacostia Metro Station.
The Barry Farm tenant's association said District planning officials made it "abundantly clear" during a hearing last month at the zoning commission "they have no interest in the well-being of the hundreds of people who call Barry Farm home."
Residents maintain that developers and zoning officials "are not promising 1-for-1 replacement of units; they make no substantive guarantee of appropriate resident relocation during or after construction, and they continue to cite failed HOPE VI projects as models for their plan."
For more information, contact Schyla Pondexter-Moore at 202-234-9119 x.101, or by emailing housing@empowerdc.org.