Chuck Brown's Final Album Set for August Release
Month of Special Tributes Scheduled for 'Godfather'
7/29/2014, midnight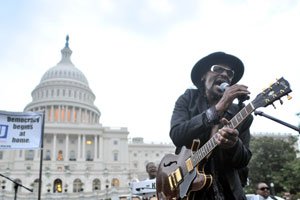 In honor of the late music legend and Grammy-nominated recording artist Chuck Brown, D.C. Mayor Vincent C. Gray proclaimed Aug. 22, the singer's birthday, as "Chuck Brown Day" in the city.
In August, Gray will also unveil a memorial to the artist, who died in 2012. Chuck Brown Memorial Park, located in Langdon Park in Northeast D.C., will include a memorial wall with 11-foot iconic images of Chuck Brown, stretching nearly 40 feet wide.
Brown is the founder and creator of go-go music, a genre deeply rooted in funk and soul that he developed in the early '70s and the only form of expressive culture to originate in D.C.. The Chuck Brown Band continues to perform regularly to full houses in the metropolitan area and as far away as Atlanta.
Brown's final album, "Beautiful Life" will be released Aug. 19. The new album contains an intro by Doug E. Fresh, collaborations with rapper Wale, R&B stars Faith Evans and Raheem DeVaughn, D.C. go-go icon Sugar Bear, and gospel singer Y'Anna Crawley, winner of BET's 2009 "Sunday's Best." The album will also include three new songs by the Chuck Brown Band featuring Frank Sirius, Ms. Yendy and Brown's daughter KK.
The new album will be available at Best Buy, Wal-Mart, FYE, DTLR, Sports Zone Elite and other retailers, as well as on iTunes and other digital outlets.
Attendees of the Spirit Festival on Aug. 2 will also have an opportunity to appear in the final Chuck Brown music video.
Tour dates of The Chuck Brown Band and special tribute events leading up to the album release:
Wednesday, July 30 — The Chuck Brown Band will perform at Gudelsky Pavilion at Strathmore in Bethesda at 7 p.m.
Saturday, Aug. 2 — Summer Spirit Festival and Chuck Brown music video taping at Merriweather Post Pavilion in Columbia (festival attendees invited to participate in the taping)
Friday, Aug. 8 — Exclusive advance album listening event at D.C.'s Baby Wale at 1124 9th Street NW (invite & ticket purchases only)
Friday, Aug. 15 — The Chuck Brown Band will perform at an album release party at Center Stage in Atlanta
Tuesday, Aug. 19 — Chuck Brown's "Beautiful Life" album release date
Wednesday, Aug. 20 — Screening of "Put Your Hands Up! The Tribute Concert to Chuck Brown" at U Street Outdoor Movie Series in Harrison Park
Friday, Aug. 22 — Official Chuck Brown Day in D.C.; The Chuck Brown Band will perform at an album release event and birthday show for Brown.
August (TBD) — Ribbon Cutting of Chuck Brown Memorial Park
To purchase tickets or Chuck Brown memorabilia, go to http://www.pledgemusic.com/projects/chuckbrown.