D.C. Mulls Change to High School Graduation Requirements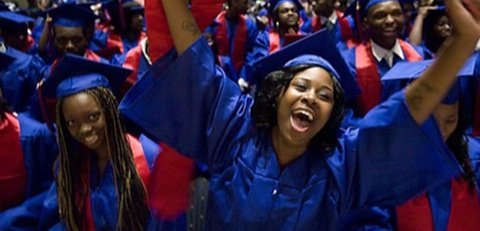 The DC State Board of Education is leaning toward implementing a more competency-based graduation system for public high school students, officials say.
"We've actually been in meetings to expand the requirements, but the changes won't occur immediately," said Mark Jones, Ward 5 board member. "Although we'll remain at 24 credits for the standard diploma credits, we'll probably have to make some adjustments, such as with physical education and maybe language and science."
Jones said plans also call for adding two credits to enable students to earn a diploma of distinction. That program, which would offer students an opportunity to take Advanced Placement and International Baccalaureate courses, would aim to increase employment prospects and have colleges and universities more favorably view participants for admission.
"I'd like to see the board vote on it in August and then see if the school system will implement it, which would probably take a couple of years," Jones said. "It certainly would not take place this school year because [school officials] would not be prepared."
For decades, students have been required to take at least three years of history, two years of government courses, as well as obtain credits in the core subjects of English, math and science. They also had to obtain credits for foreign language, health and physical education.
Currently, in order to receive a diploma, city high schoolers must earn 24 credits, 12 of which must be in English, math, science and social studies. Graduating seniors must have also completed 100 hours of community service.
However, Board of Education officials proposed last year adding a thesis project to the graduation requirements and dropping the U.S. government course in favor of extracurricular electives such as music performance and sports.
"There are a couple of changes that parents and others might want to pay special attention to," said Cathy Reilly, executive director of the Northwest-based Senior High Alliance of Parents. "In world languages, students must go through two units of the same language and they can get high school credits for language courses taken in middle school online or through direct study that can be verified," she said. "In social studies they no longer have two years of world history but just one year, one year of U.S. history and a half-year of D.C. and U.S. government, along with other credits that can be selected by the student."
Reilly said that board officials are reducing student electives from 3.5 credits to 2.5 credits and increasing both physical education and health by a half-credit.
"There's been a lot of pushback if increasing the physical education would actually give students more exercise," Reilly said. "But this also poses a lot of challenges to schools that don't have full gymnasiums."
OSSE spokeswoman Victoria Holmes said the agency would be happy to receive formal recommendations from the school board, but hasn't taken a stance on changes to the required course credits.
"We hope to take up this issue, along with a fresh look at all of the graduation requirements, during the next academic year," Holmes said.
Eboni-Rose Thompson, chair of the Ward 7 Education Council, said the proposed changes might be ideal for forging ahead, but everything hinges upon how well the proposal is implemented.
"We haven't taken a position, but we've done a lot of work around the graduation requirements and it's a difficult thing, because the state board is kind of taking ownership of the conversation on competency and how many credits are needed," Thompson said. The board's proposal "seems to affect so many other things that they have no authority [over]."
Thompson said she believes the board has tried to consider all implications, but she isn't sure if OSSE and DCPS will be on the same page as far as the execution of the changes are concerned.
"I just think that it looks the same as it does in theory," Thompson said. "I'm really kind of worried about that, and while I don't think it's malicious, I want to know what it means — especially for Ward 7," she said. "Overall, there are just some questions about how the board fits into our educational landscape in D.C., anyway."