Md. Teen Selected to Play with Pro Golfers on Champions Tour
Micaa' Thomas Headed to Pebble Beach Week in September
7/29/2014, midnight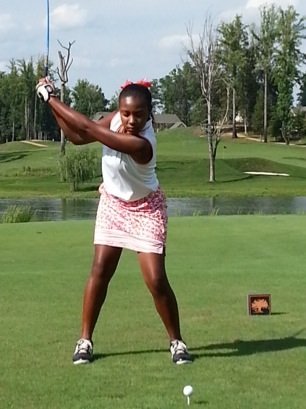 The First Tee of Greater Washington, DC is sending Micaa' Thomas to compete in the 2014 Nature Valley First Tee Open at Pebble Beach, an official Champions Tour event that will be held September 26-­28 and televised internationally on Golf Channel.
Thomas will join 80 other participants from The First Tee chapters for the event, which is in its 11th year.
"Nature Valley is proud to be associated with this event, and thrilled to see these juniors get the call of a lifetime," said Joe Ens, vice president of marketing at General Mills. "The First Tee is doing incredible work helping young people learn important life lessons like the Nine Core Values. We look forward to welcoming Micaa' Thomas and the full junior field at this year's tournament."
Thomas was selected by a national panel of judges who evaluated playing ability and comprehension of the life skills and character education learned through their involvement with The First Tee. More than 150 applications were submitted.
"Micaa' has made a great impact in just over one year at our Chapter and we could not be happier for her or more proud," said Clint Sanchez, The First Tee of Greater Washington, DC Executive Director. "She set a personal goal of competing in this event when she joined our Chapter in 2013 and it does wonders for her growth to see this goal reached. She is an outstanding golfer, but more importantly, a role model whom all of the participants in our program, especially females can look up to!"
Thomas upon receiving news of her Pebble Beach selection commented, "I feel so blessed and fortunate to have an opportunity to compete at one of the most prestigious golf courses in the world! I can't wait to practice and play with the Champions Tour Professionals! This is a dream come true! I love being a part of The First Tee of Greater Washington, DC program because it gives me so many great opportunities just like this!"
Champions Tour players committed to play include two-­‐time Nature Valley First Tee Open winner and defending champion Kirk Triplett, Charles Schwab Cup contenders Jay Haas and Kenny Perry and a number of World Golf Hall of Fame members.
Thomas, 16, is a rising senior at Archbishop Spalding High School in Severn, Maryland, and a member of The National Honors Society at the school. She is currently in her second year with The First Tee of Greater Washington, DC. This spring, Micaa' and her Spalding teammates, on their first formed Varsity High School Girl's Golf Team won the Interscholastic Athletic Association of Maryland (IAAM) Championship. At 2 under par, Micaa' was declared the event's Medalist, IAAM Player of the Week, and Spalding's Athlete of the Month. On June 16, Micaa' had her first Hole in One while competing in the Bill Dickey Invitational Tournament at the Golf Club of Georgia, in Alpharetta. This summer, Micaa' was instrumental in helping the Maryland State Golf Association, Women Division, Junior Golf Team, win the Poindexter Cup against the Virginia State Golf Association, Junior Golf Team in Cambridge, Maryland.