D.C. Art Gallery Closes After 17 Years
Costs Force Artist to Abandon His Dream
D. Kevin McNeir | 7/30/2014, 3 p.m.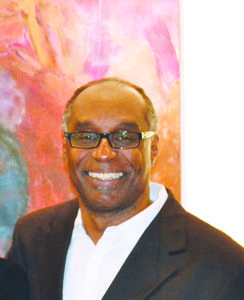 Given the number of blacks that live in the District, it would be reasonable to conclude that minority-owned businesses continue to savor the sweet smell of success. 
However, when it comes to fine art galleries, soaring rental costs and a decline in the numbers of those who can afford to purchase art have resulted in yet another black artist shutting his doors.
"I've been a practicing artist and educator for over 25 years and I opened International Visions Gallery in 1997 because I saw a void in D.C. for showing the works created by artists of color, especially blacks and those from outside of the U.S.," said Tim Davis, the gallery's founder and owner. "Mine was the last black-owned gallery in the District – others like Norm Parrish, who died last year, also worked as art dealers and maintained their own places but it has become increasingly difficult to make a profit and remain open," said Davis, 58.
Fellow artists, friends and patrons of the arts joined Davis on Saturday, June 26 in his gallery in Northwest for a closing reception, party and viewing of new works by the Chicago-born painter and illustrator. Davis said despite being forced to close his business, he will continue to pursue his goal of representing artists of color in D.C. and from under-represented parts of the world.
"I'll continue to work as a private dealer, put more emphasis on my own work and help other artists sell their works, including taking our art to fairs in Miami, New York City, Atlanta and Puerto Rico," Davis said. "It's gotten so expensive to rent space in the District and we've even had difficulty getting the media to come out and support our shows. There's so much potential but far too little support so we have to find alternative ways to showcase our work – like at pop up shows."
One longtime D.C. resident and artist whose work appears in collections at places including the Smithsonian American Art Museum said more financial support and encouragement need to be provided for artists from the District.
"We see great incentives being given to developers and those who are building condominiums but not to artists," said Renee Stout, an artist whose paintings, photographs and mixed media sculptures have been showcased throughout the U.S., England, Russia and the Netherlands. "In a city with such a high black population, I fault our elected officials and leaders for not promoting the visual arts more."
Stout said that while Davis had an excellent gallery, closing his place could not be avoided.
"Artists like Tim Davis and so many others need affordable places for their galleries in locations that are more conducive to mass transit," Stout said. "Why do developers and the city have to be so greedy? It seems to me that if people could enjoy a nice dinner and then go see a variety of art, they would be willing to spend their money and would have a better time too," said the internationally-recognized artist.