LETTERS TO THE EDITOR: Frederick a Superb Selection!
7/30/2014, 3 p.m.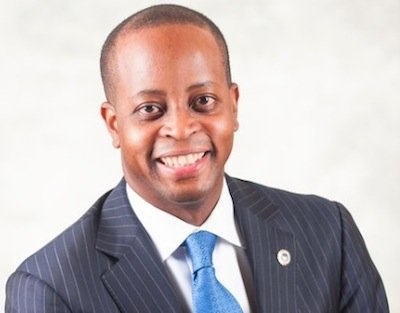 I can't begin to express the excitement I felt when I read that Wayne A.I. Frederick was picked to be Howard University's 17th president [article by Dorothy Rowley, July 24, 2014]. This was truly a great day for all who love the university. Dr. Frederick is young, smart, dynamic, and I believe bleeds blue and white.
I applaud the Board of Trustees and all involved in the selection process for making what I think will be one of the most important decisions for the university this century. Dr. Frederick's research background can only enhance his vision on how the university can better compete in a highly-competitive environment for the best young minds and corporate dollars. I just want to extend my heartfelt congratulations to the entire Howard University family.
Clifford McMann
Washington, D.C.
Teaching: An Honorable Profession
The article, "Minority Teachers Abandon Classrooms" by Stacy M. Brown, July 24, 2014, brought up some good points on why there aren't very many teachers of color in classrooms today. As a retired teacher of 38 years, I would like to add a few pointers about teaching and why one becomes a teacher.
For one, you don't become a teacher to get rich, teachers have always been underpaid and overworked, and if you are choosing teaching as a profession, accept this as a fact. Most individuals choose teaching because they had a teacher who was able to inspire them to heights they never thought they could achieve, and in turn they want to do the same for others.
Secondly, teaching is a profession and there should be an exam just like any other profession – for example – to become an attorney or a doctor – examinations are mandatory. Likewise, individuals who are interested in teaching must pass certain examinations to prove they're qualified to enter the classroom and start shaping young minds. Certainly, we should have more minorities enter the classrooms as teachers, but they must be ready to meet the challenges that await them in a realistic manner.
No longer can we accept individuals who want to be teachers because they can't do anything else. To be a teacher one has to be dedicated to wanting to see young people excel. In short, teachers must love and have a passion for what they do.
Leonard Watkins
Suitland, Maryland
Cheers for the New Ballou High School!
I loved the front-page photo by Shevry Lassiter that appeared in the July 17-23 edition. The photograph captures the depth of construction going on at the new Ballou Senior High School.
It's amazing how quickly the construction workers are getting the building ready, as I often travel the area and each time it looks that much closer to completion.
The students in Southeast more than deserve state-of-the-art learning environments, and I believe that had school officials rehabbed Ballou a decade ago, there's no telling how many students would have stayed there and graduated.
As trite as it might sound, I've heard talk regarding students who dropped out of schools like Ballou and Anacostia because the buildings had become so outdated – the structures reminded them of prisons and old, dark monasteries.
So I'm sure it will be both an exciting and a refreshing change for the Ballou students when their new school opens next year. Then they can boast school pride just like the students at Wilson, Cardozo and Dunbar in Northwest who, as usual always seem to be first in line for new programs and services.
Yes, they may have put Ballou on the back burner, but I believe that the time apparently came when someone raised a little hell and the powers that be finally got around to meeting the needs of students in Southeast.
Dorothy Robinson
Washington, D.C.